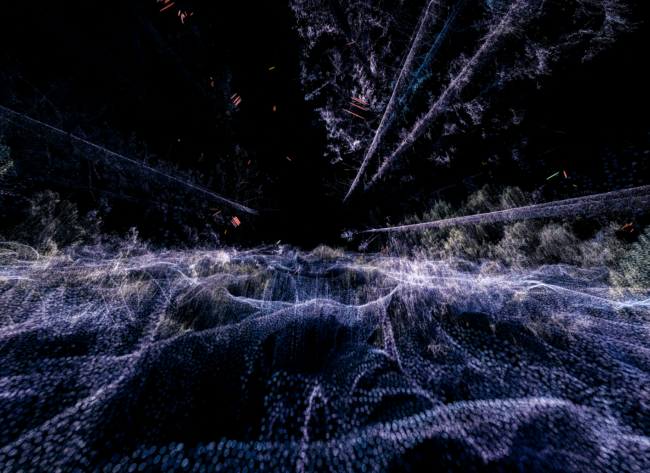 In the Eyes of the Animal online coming soon at ITEOTA.com
Virtual reality (VR) experience In the Eyes of the Animal is an artistic interpretation of the sensory perspectives of three British species. Created using Lidar scans, unmanned aerial vehicles (UAVs) / drones & bespoke 360° cameras, the piece is set to a binaural soundscape using audio recordings sourced from Grizedale Forest in the north of England.
Created by creative studio Marshmallow Laser Feast (MLF) – who delight in exploring the line between virtual and real-world experiences – this critically acclaimed work is being developed into a free online experience, at ITEOTA.com
The original live installation of the work, which premiered at AND Festival 2015, can also be experienced in a natural environment on its current UK and international tour, where sculptural virtual reality headsets are installed within forests, enabling audiences to traverse the animated, real-world, landscape.
Find out more about how the project develop, and see documentation from the live installations, in the Behind the Scenes video
#ITEOTA
Credits
In the Eyes of the Animal was commissioned by Abandon Normal Devices and Forestry Commission England's Forest Art Works. The online edition was created in partnership with The Space. Produced by Abandon Normal Devices and Marshmallow Laser Feast. Supported using public funding by Arts Council England and Forestry Commission England. Website support by The Neighbourhood.