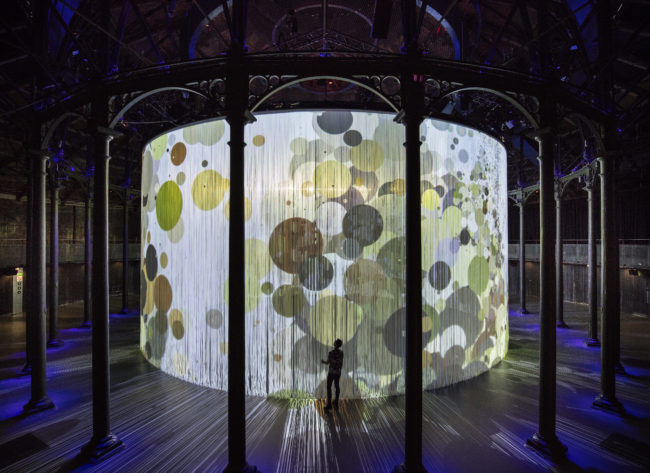 Past projects: In the Eyes of the Animal at Ron Arad's Curtain Call / London
6 – 29 August 2016
12pm – 8pm
The Roundhouse
London
Marshmallow Laser Feast's In the Eyes of the Animal takes a new form over the summer, featuring in Ron Arad's Curtain Call at The Roundhouse (London, UK) for the venues 50th anniversary celebrations.
Curtain Call is internationally renowned artist, architect and designer, Arad's critically acclaimed immersive 360˚ installation. An epic floor-to-ceiling artwork made of 5,600 silicon rods suspended from an 18 metre diameter ring, it enables audiences to be surrounded by, and to pass through, the 360˚ visuals.
Returning to the Roundhouse for its fifth consecutive year, in 2016 Arad is reinventing the curtain experience by inviting brand new collaborators to work with him, including Marshmallow Laser Feast.
'Walk in, penetrate, cross the moving images to get inside the cylinder. You'll be engulfed by images –a captive, but also a creator. It's amazing what exciting things happen on both sides of the curtain.'
Ron Arad
The live VR installation of In the Eyes of the Animal is currently on a UK and International Tour, don't miss your chance to experience this critical acclaimed immersive work – Tour Dates
main photo credit: David Levene