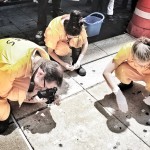 Wed 23 Jul 2014 by admin, Tags: canals, research, touring
TRES is Ilana Boltvinik, Rodrigo Viñas and Mariana Mañón and since forming as a collective in 2009, they have achieved notoriety for drinking human urine, analysing thousands of anonymous fingerprints and photographing trash; all of which grew from their interest in garbage as physical and conceptual residue, entailing political and material implications.
AND intends to set TRES loose upon the waterways and canals of Northern England, where they will be free to research waste as an archaeological subject.
Read more...