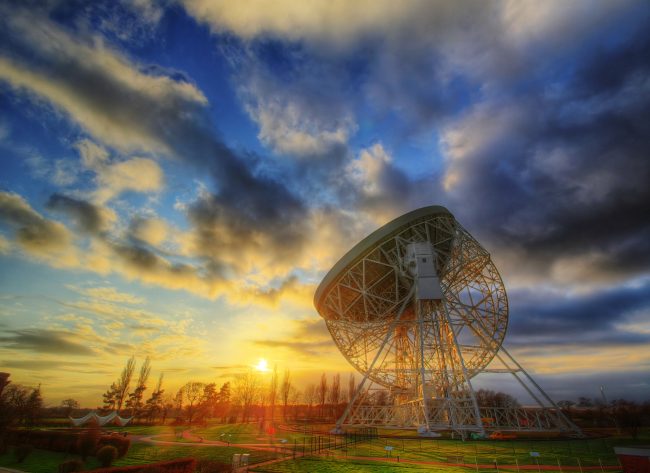 Track our journey #COSMOS17
In July 2017, the epic structure of the Lovell Telescope presented a unique and unparalleled canvas for Celestial Frequencies, an audio-visual work by award winning Tokyo-based Media Artist, DJ and Programmer, Daito Manabe and Setsuya Kurotaki (Rhizomatics Research) during Bluedot festival.
Celestial Frequencies, Bluedot festival, Jodrell Bank Observatory
Fri 7, Sat 8 & Sun 9 July 2017 / 11pm – 3am
A programme of events to accompany the live projections took place over the weekend.
Festival Stall with Arup: Bluedot festival / Star Field
Fri 7, Sat 8, Sun 9 July / 10am – 8pm 
Celestial Frequencies Interactive Control: Bluedot festival / Star Field
Fri 7, Sat 8, Sun 9 July / 11pm – 2am (Fri & Sat), 11pm – 1am (Sun)
SHIFT Town Talk with Daito Manabe: Macclesfield Town Hall 
Sat 8 July/ 12am / Book Tickets
Festival Talk with Daito Manabe: Bluedot festival / Mission Control
Sat 8 July / 2.45pm
DJ Set by Daito Manabe: Bluedot festival / Orbit Stage
Sun 9 July / 6.10pm
CREDIT 
Celestial Frequencies has been created following COSMOS 2017.  
COSMOS is a flagship international artists commission and residency for Lovell Telescope. Produced by Abandon Normal Devices, commissioned by Jodrell Bank Observatory, bluedot, SHIFT and Abandon Normal Devices. Supported by the University of Manchester, Rhizomatiks Research, Great Britain Sasakawa Foundation, Daiwa Anglo-Japanese Foundation, and with public funds from Arts Council England.  LiDAR* scans of the Lovell Telescope used in the production of COSMOS are provided by Arup.