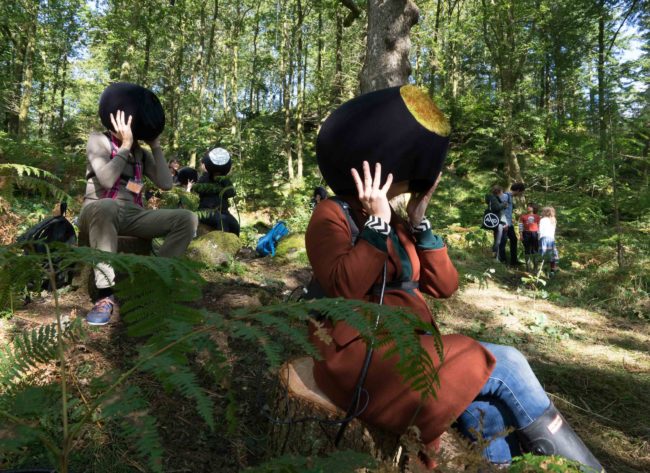 Past projects: In the Eyes of the Animal / Hamsterley Forest
Friday 13 – Sunday 15 May 2016
Hamsterley Forest, County Durham, UK
FREE
Ever wondered what it's like to be an animal in the forest? To flutter like a dragonfly or jump like a frog? Discover the world anew through this 360 degree cinematic experience, which immerses you in a vibrant world belonging to woodland creatures.
This new commission, which premiered at AND Festival 2015, is enabling audiences to encounter the forest anew, through an immersive virtual reality experience. Told from the viewpoints of the inhabitants of the forest, this animated film is a speculative short story focusing on the life-cycle of three different species. The work is experienced through bespoke oculus rift virtual reality headsets.
For Hamsterley forest audiences were taken on a guided walk, finding out more about the context and technology of the work, into the heart of the forest. Here they encountered the sculptural installation of headsets and experienced the film for themselves, in the midst of the trees.
Documentation from the event at Hamsterley Forest can be found here, and a promotional trailer can be viewed below. Visit our Tour Dates page to find out where In the Eyes of the Animal is visiting next!
This Autumn, AND release a unique online 360º experience of this critically acclaimed work – find out more here 
#ITEOTA
Creative collective Marshmallow Laser Feast (MLF) delight in exploring the line between virtual and real-world experiences. This project invited audiences to a unique virtual reality setting created specifically for the Forest. Filmed using unmanned aerial vehicles (UAVs) or 'drones' and bespoke 360º cameras, it was set to a binaural soundtrack using audio recordings sourced from the surrounding woodland.
Artist bio
Marshmallow Laser Feast (MLF) is a creative studio exploring the line between virtual and real-world experiences. Headed by Robin McNicholas and Barney Steel, their interests are routed in creating people-centred, live interactive work. They have flawlessly conceived, designed and delivered highly aesthetic and evocative showstoppers in collaboration with many brands, musicians, advertising agencies, event organisers and art institutions. Their work for U2's 'Invisible' Super Bowl promo and the Saatchi & Saatchi New Directors' Showcase has brought a plethora of digital art experiences to the live environment. MLF recently joined forces with Chris Milk's VRSE.works to explore the new world of virtual reality. They are currently developing a broad range of VR experiences.
Credits
Commissioned by Abandon Normal Devices and Forestry Commission England's Forest Art Works. Produced by Abandon Normal Devices and Marshmallow Laser Feast. Supported using public funding by Arts Council England and Forestry Commission England. Equipment supported by Nvidia and Sub Pac.