Venue TBC / 00:00 / FREE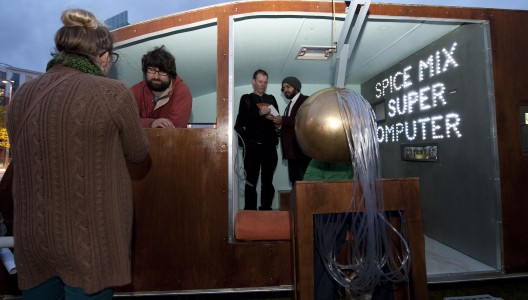 New Touring Commissions from London Fieldworks, Hellicar & Lewis, The Center for Genomic Gastronomy, Bureau A, Julian Oliver and Designers Republic
Over the summer AND took to the road with Mobile Republic, a touring convoy of interactive caravans.
The classic touring caravan is a symbol of the traditional British summer holiday, but these caravans are not what they seem. Beneath their innocent exteriors the five caravans have been radically remodelled and re-imagined by artists, architects and activists.
When in situ the five commissioned caravans group together in a wagon circle, creating a central 'big-top' social space designed by Bureau A that will feature an artist's studio, performance space and an indoor/outdoor cinema. The cinema will feature the newly commissioned short film End of the Road from London Fieldworks that looks at the travelling communities in Hull . The Centre for Genomic Gastronomy will be transforming one caravan into a Planetary Sculpture Spice Mix Super Computer, where you can create and taste, test and calculate your own unique spice combination. The award winning Julian Oliver introduces the Boarder Bumping caravan which will collect, map and use the telecomms infrastructure to SMS passengers as they cross new borders, changing the ways in which we understand where we are. All of this activity will be broadcast online from the media hub caravan created by artists and technologists Hellicar and Lewis.
Together, these bespoke artists' commissions look at the colliding forces of nature, industry, extinction and a world where future technologies can be sustainable and responsive. With onboard artists ready to entertain you with food, film and fascinating ideas, Mobile Republic is coming very soon to a town near you.
Mobile Republic was commissioned by AND and funded by Arts Council England, London 2012 Festival, Legacy Trust UK and WE PLAY expo, Copeland Borough Council presented in partnership with Copeland Borough Council, Blackburn Youth Zone, Blackburn with Darwen Borough Council, ASK Property Developments and Octopus.