Thu 03 Oct 2013 — Sat 05 Oct 2013 FACT / Public Space / Daily 12:00 – 19:00 / Free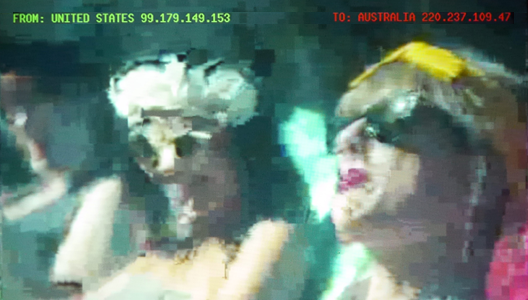 In the context of omnipresent telecommunications surveillance, The Pirate Cinema reveals the hidden activity and geography of online peer-to-peer (P2P) file sharing.
Presented as a movie monitoring station, the project makes transparent which film files are being transferred in real time on networks using the BitTorrent protocol.
The result is a live mash-up of film file fragments, peer IP addresses and source/destination data which illustrates the global dissemination of content consumption.
About the artist:
Nicolas Maigret is an artist who has worked in digital art and sound since 2001. His work exposes the internal workings of media through a reflection on their errors, their dysfunctions, their limitations and failure thresholds.
After completing studies in inter-media art, Nicolas Maigret joined the LocusSonus lab in France, where he explored networks as a creative tool.
He teaches at École des beaux-arts de Bordeaux and co-founded the collective Art of Failure in 2006. He is also involved with the project Plateforme, an artist-run centre in Paris.
His work has been presented in international festivals, galleries and museums including Sonar (Barcelona, ES), File (Sao Paulo, BR), Museum of Art and Design (New York, USA), SETI (San Francisco, USA), Upgrade! (Chicago, USA), Eastern Bloc (Montreal, CA), Gli.tc/h (Birmingham, UK), Sonica (Ljubljana, SI), Leeds Film Festival (UK), Mapping Festival (Geneva, CH), National Gallery (Kosice, SK), Cimatics (Brussels, BE) and Gaite Lyrique (Paris, FR).