Farewell to 2020
Thu 17 Dec 2020
2020 has been both monumental and mundane, seemingly nothing has happened while our lives have been restricted geographically and socially, while simultaneously it feels like everything has changed.
The COVID-19 pandemic has shifted our plans in ways that we could never have predicted when we started planning the 9th edition of AND Festival back in 2018. When we pressed pause on our programmes in March 2020, it was with the hope to resume a couple of months later, but it became apparent there were much bigger and longer-term challenges ahead.
The virus has affected us all in different ways. as our physical and digital worlds have become blurred, it has been necessary to find new ways of working, living and being. Some of these changes have welcomed new understanding and empathy of how we can live and create collectively. Other urgent adaptations, illness and isolations remind us of the power of human collective action, gathering and touch, which we hope to welcome back into our lives in 2021.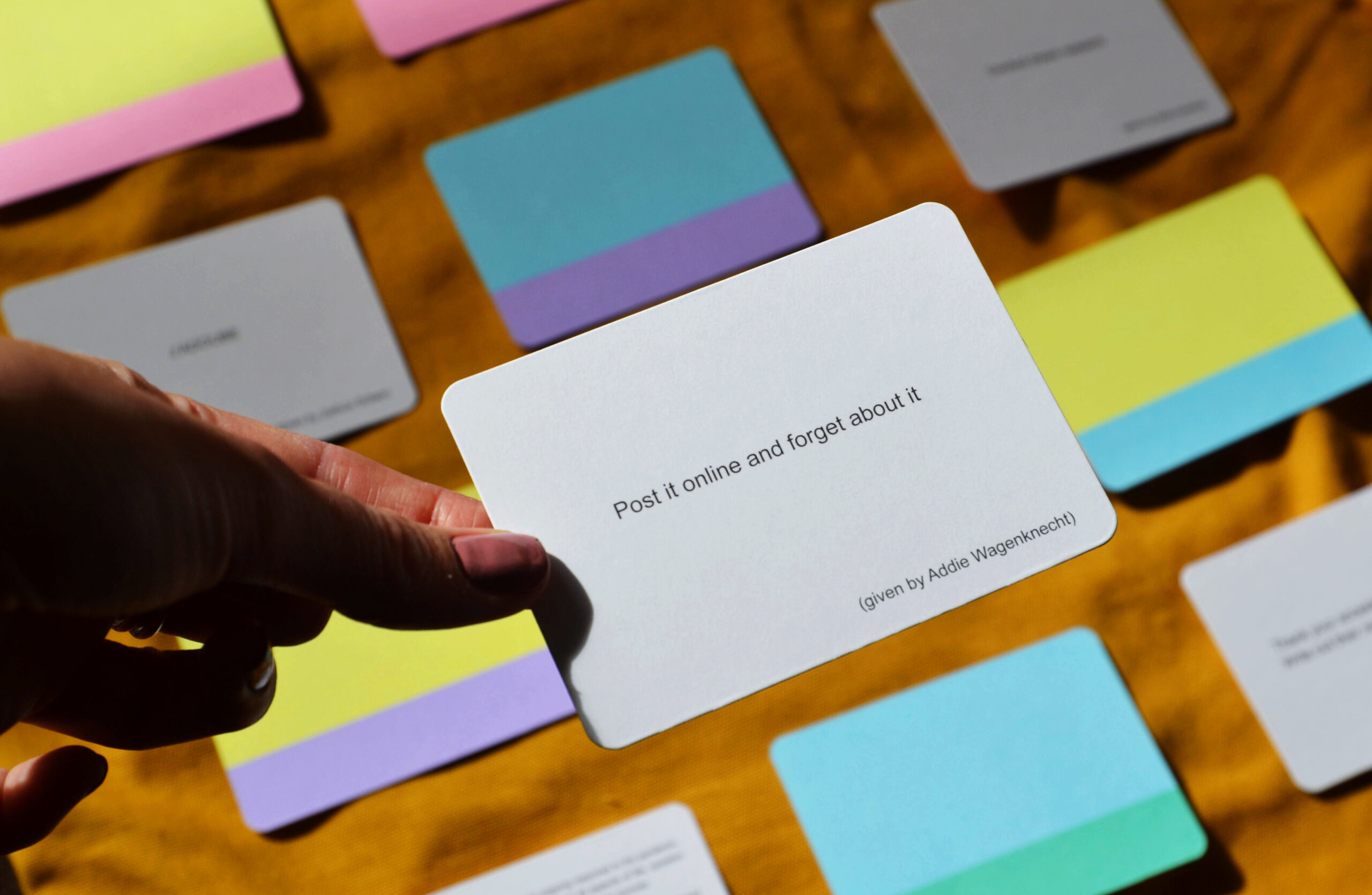 The past eight months have also given us time to connect with creative communities and supporters from the past ten years. We developed Abandon Normal Strategies as a way to respond to what was happening across the globe, inviting AND artists from the last decade to devise a collection of strategies reflecting on our altered world in 2020. Abandon Normal Strategies is a marker for us of this year of seismic shift, a playful attempt to connect our artists, followers and friends whilst we move together into a new phase of working and creating. Alongside this we took time to reflect with our blog series, AND Echoes, uncovering the most memorable moments from the last ten years from our brilliant team and board. For our latest AND Echoes reflection, AND's Comms Coordinator Edwina and I sat down to chat about AND's position within interrogating the web through our body of online commissions.
Looking to the future, we were fortunate to receive Culture Recovery Funds in October, which has given us the time and resources to think, challenge and shape our future plans. We've been working behind the scenes with our partners, artists and creative teams towards the delivery of the festival in Spring and Summer 2021. AND Festival will resurface on the physical and virtual waves of the Manchester Ship Canal and River Mersey, keep your eyes peeled for festival dates in the new year!
We're excited to welcome the changes and new challenges in 2021 in a way that feels true to AND's experimental style, and is safe for our audiences, artists and staff. We look forward to restarting programmes with our creative teams old and new. Alongside initiating two long-term pieces of work considering AND's approach to equality and the environment, interrogating how the organisation evolves to meet the urgent challenges within social and climate justice.
Thank you to everyone who has contributed to, engaged with, and supported our work in 2020. Have a safe, restful and rejuvenating holiday season, and we look forward to connecting with you in 2021.
~ Ruth
Images:
How to Appear Offline Forever, Sebastian Schmeig (2015)
Abandon Normal Strategies. Prompt given by Addie Wagenknecht
Additional Links
Recent Journals
Other Journals
2023

2022

2021

2020

2019

2018

2017

2016

2015

2014

2013

2012

2011