Getting The Ball Rolling (and Bouncing!)
Tue 26 Jul 2011
Saturday 23rd of July 2011 marked the first public manifestation of Pigs Bladder Football – an unusual new and experimental art project which will be exploring the historic and material origins of our beautiful game.

Football is often claimed to be an international language and the ball itself is a globally iconic object. Our pigs bladder football is a collaborative investigation into the fundamental values of soccer and related games, through the re-invention of centuries-old processes which are on the verge of being lost.
The main focus on Saturday was an introductory workshop involving hands-on research conducted by members of the public into appropriate techniques for manufacturing footballs out of pigs bladders which had been obtained from an abattoir as a by-product of slaughter.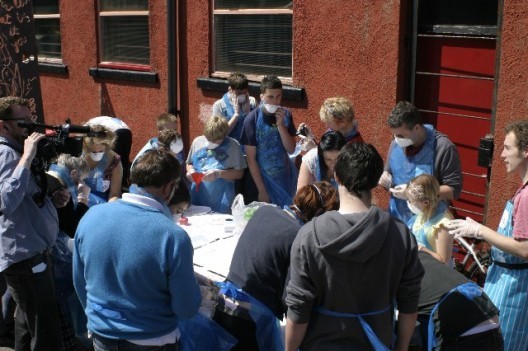 Fittingly for a project concerned with forgotten craft and re-invention, the launch took place within the post-industrial surroundings of Europe's last iron-ore mine soon to be re-opened as Florence Mine arts centre and located in Egremont, Cumbria. The day was given an extra buzz by being recognised as an official part of the London 2012 Olympic and Paralympic Games Open Weekend, bringing together art and sport on one platform.
Earlier in the day we had a preview of a brand new short film, Uppies and Downies, made by myself and Tim Brunsden during our initial research. Uppies and Downies chronicles an astonishing Easter Tuesday evening of "mob football," a unique sports-festival-happening which takes place three times each year in Workington, a town near to Egremont and also in Cumbria.
We followed the screening with a discussion about the nature of such games. Present was Joe Clark (2011 player of the series) and his son Paul, who described their own visceral experience of this much misunderstood sport-without-rules. They made an important argument for freedom of expression as the key element of their historic contest.
Uppies and Downies was the first film to be publicly screened in Florence's excellently equipped new cinema, and it gave us an appetite for the days main event – and the fundamental starting point for any such game – the making of the ball.
There is a full set of photos from the workshop up on Flickr here.
Participant Sam Meech has blogged about his experience, Debbi Lander has also written up an account of the day.
Pigs Bladder Football begins here!
Image at top: 'Keepy Uppie 6', John O'Shea. Middle image: 'Workshop', Tim Jones.
Recent Journals
Other Journals
2023

2022

2021

2020

2019

2018

2017

2016

2015

2014

2013

2012

2011