Interview: Monika Bakke
Mon 14 Sep 2015
What if you had the chance for a day to look at the world through the lense of a plant? How would you signal to your fellow species and animals? In which way would you sing, eat, fantasize, have sex? Would interaction with human beings threaten your existence?
Joining us in an unorthodox exhibition, deep in Grizedale Forest, you will have the opportunity to experience with your senses, some of the uncanny answers to the questions above.
Through the exhibition, Seeing the Forest Through the Trees we try to challenge the conventional ways we think about plants with the help of curator Monika Bakke. She invited eight international artists to contribute our efforts to understand plant behaviors and has created a mystifying and bizarre journey of the forest's most natural habitats, their lifestyles and relationships with other species.
We had a chance to interview her a few days before the launch of AND Festival so she can talk through what you as visitors can expect.
Can you talk through your background and research?
My academic background is in philosophy and visual culture. All my professional interests have always revolved around the topic of body; early on this meant mainly body art and abject art. But at that time, both in art and philosophy, "body" always meant only human body. This anthropocentric limitation, once noticed, seemed to me really oppressive so I started exploring nonhuman bodies: animal, plant, bacterial, viral, fungal but also hybrids and chimeras in the context of biotech. The most exciting moment though was to see them all entangled through metabolic and semantic webs of connections and dependencies and reaching even further to nonorganic matter and solar energy. Nowadays as a faculty member at the Philosophy Department of Adam Mickiewicz University in Poland I teach courses, one way or another, involving posthuman perspectives in philosophy and in art.
You start your paper "Art for Plant's Sake Questioning Human Imperialism in the Age of Biotech" with a quote of Florianne Koechlin: "We are only beginning to understand what it means to be a plant." When did you become interested in plants?
I guess, years ago, when I realized that although we have common ancestors plant bodies and life styles are so strange to me-human-animal. Plants eat light and minerals; they develop modular and sensitive bodies that lead exciting sexual lives. All this is usually missed if you only eat them or decorate your house with cut flowers. Being interested in bio art I learned about plant cells, plant tissue culture, and plant metabolism as well as about their sensing abilities, intelligence, and memory. All this knowledge totally changed my perception of plants and I started my academic campaign against so called "plant blindness" writing articles and giving conference papers. In 2012 I organized a session "Vegetal Sensoria" at Mutamorphosis conference in Prague. Artists Kathy High and Allison Kudla, who are participating in Seeing the Forest Through the Trees, where there as well talking about their art projects. Since then I have been observing a rapidly growing interest in plants in the humanities and art. All this is a contribution to an emerging academic discipline called critical plant studies.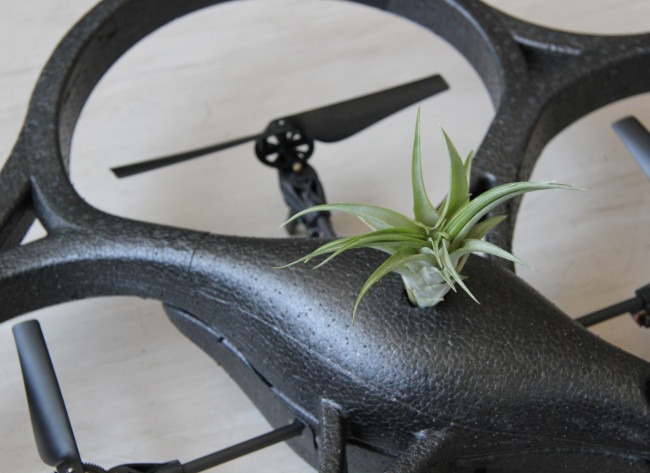 The current philosophical debates around the so-called "Anthropocene" has become a popular topic and extended into the art world as well. Does the exhibition explore this in some way?
The exhibition does not deal with the topic of Anthropocene directly, however, plants are among the life forms that have been heavily affected by anthropogenic pressures. And yet plants are our hope for better future as they play an important role in removing green house gas from the atmosphere. The exhibition opens up many perspectives to look at plants without instrumentalizing them. As Donna Haraway suggests, curiosity about nonhuman lives is already a step forward to more ethical attitude towards them hence towards multispecies ecojustice. Moreover we "have a mammalian job to do" which means that we need to work together with our biotic and abiotic collaborators. In other words, as she fazes it, we need to "make kin" with beings which seem quite distant in terms of shared ancestry. On the other hand research suggests that plants can adapt quite quickly to the changing environmental conditions and the past mass extinction events may even be seen as opportunities which eventually lead to renewed biodiversity.
Much can be said about the application of networked systems and open architecture to art practices. What influence can plants have on the digital technologies?
Plants are information processing organisms that operate collectively as networks. Stefano Mancuso, who is a plant biologist in charge of the International Laboratory of Plant Neurobiology in Florence, where plant intelligence, behavior as well as signalling and communication are being researched, suggests that plant intelligence may be compared to swarm intelligence observed also in flocks of birds, shoal of fish, etc. Plants then act not so much as individuals but rather as multiplicities consisting of numerous body parts of undetermined growth so the lost or damaged body part can be replaced by a new one. This decentralized system of processing information is more effective for their survival. For Stefano Mancuso plants not only show our future of networked technologies and green solutions but also plant intelligence may serve as a model for understanding extraterrestrial intelligence if we ever encounter one.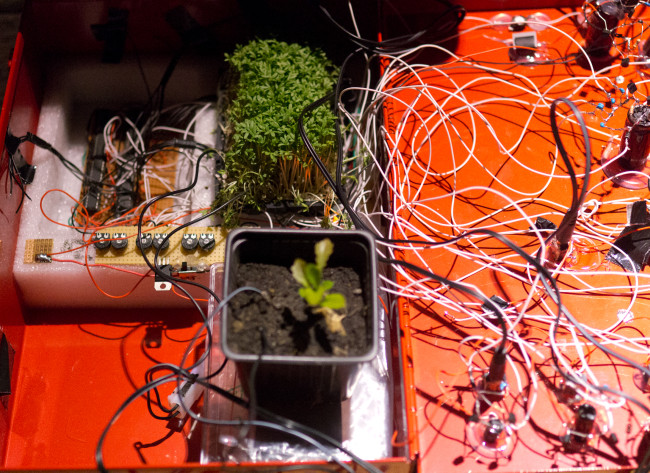 Could you make any suggestions for further readings for someone who's curious in exploring this area?
If you want to learn more about the controversial ideas in plant biology, you should definitely read Brilliant Green. The Surprising History and Science of Plant Intelligence by Stefano Mancuso and Alessandra Viola, published in 2015 as well as Plant Behavior and Intelligence by Anthony Trewavas, 2014. Daniel Chamovitz does not accept the term "plant intelligence" and instead proposes to talk about an "aware plant" in his What a Plant Knows. A Field Guide to the Senses of Your Garden – and Beyond of 2012. Also a plant biologist Matthew Hall goes beyond biology in his Plants as Persons. A Philosophical Botany, 2011. If you want to stay on the adventurous path and see how plant existence have been captured by philosophers over the centuries, you should read an exciting book Plant Thinking. A philosophy of Vegetal Life by philosopher Michael Marder, published in 2013. This is already much to digest but these ideas are highly addictive and one does not know where to stop.
What will visitors find in the exhibition at Grizedale Forest?
Those who will come to see the exhibition will find eight art projects, which in various ways involve and explore plant bodies, lives styles and their ecosystems. Allison Kudla's installation State of Becoming focuses on specificities of plant body architecture and the mode of plant growth; Oliver Kellhamer in his project Hyperorganisms creates chimeras of two or more tree species with a method of grafting; Karl Heinz Jeron's installation When Plants Sing explores an electric current and magnetic field generated by plants which he translates into a sound. A plant cyborg capable of flying, or a drone controlled by a plant, is a work by Chiara Esposito entitled The Dream of Flying. But plants are also viewed through the webs of transpecies metabolic co-dependencies and co-evolution with species of other kingdoms. Plant Sex Consultancy is a group project by Pei-Ying Lin, Dimitris Stamatis, Jasmina Weiss and Špela Petrič, which looks into plant sex strategies often involving other organisms than plants and abiotic factors. Kathy High's work Becoming a Plant explores death-life continuity through transspecies webs of metabolic processes and a video Nos Habebit Humus – The Earth Will Have Us by Kathy Hight & Oliver Kellhamer an inquiry and a meditation on the material transfigurations involving bodies and soils, and Brandon Ballengee's work Love Motel for Insects is the only installation located outdoors, about twenty minutes walk from the gallery into the forest. Although it focuses on the interactions between insects, but it also points out to the vegetal environmental conditions of their life and love.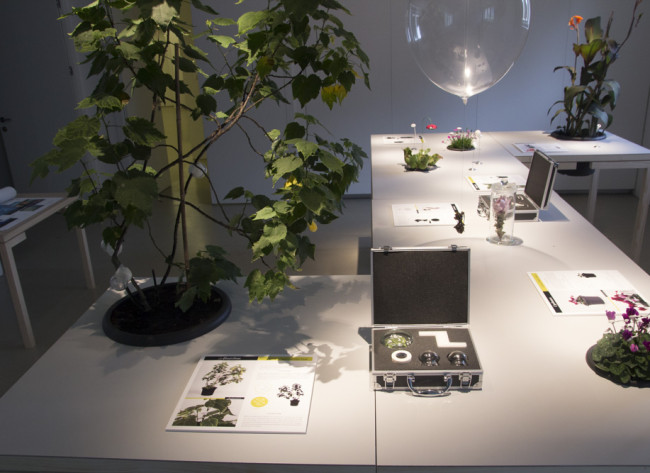 Monika Bakke is Associate Professor in the Philosophy Department at the Adam Mickiewicz University, Poznań, Poland. She writes on contemporary art and aesthetics, with a particular focus on posthumanist, gender and transspecies perspectives. She is the author of" Bio-transfigurations: Art and Aesthetics of Posthumanism (2010, in Polish)" and "Open Body (2000, in Polish)" co-author of Pleroma: Art in Search of Fullness (1998), and editor of Australian Aboriginal Aesthetics (2004, in Polish), Going Aerial: Air, Art, Architecture (2006) and The Life of Air: Dwelling, Communicating, Manipulating (2011)
Additional Links
Recent Journals
Other Journals
2023

2022

2021

2020

2019

2018

2017

2016

2015

2014

2013

2012

2011