Introducing Abandon Normal Strategies
Fri 15 May 2020
This weekend (14 – 17 May 2020) was set to be the 9th edition of AND Festival, but like so many of our partners and friends, the most unexpected set of circumstances resulted in a postponement. As the promise of an extraordinary weekend exploring waterways, docklands and industrial sites has shifted to a point in the future, we are missing our physical connections, dynamic conversations and unexpected encounters with you all, our artists, partners and audiences.
Many of us find ourselves living within an altered world, requiring new approaches to all aspects of life. Some of these changes are simple – responding to basic needs, adjustments of daily routines – others pose challenges to our core. This deeper level of adjustment asks us to consider our ingrained assumptions on the way things work and to seek guidance from unlikely sources.
In the midst of our acclimation, postponements and the proliferation of online content, we invite you all to Abandon Normal Strategies and ask what now, for how we live, work and create?
Abandon Normal Strategies is a printed artwork that will be delivered to your home, aspiring to galvanise alternative approaches to thinking and unexpected courses of action. Inspired by Oblique Strategies, we have invited artists and critical thinkers we have worked with over the past decade to devise a new set of strategies reflecting on our altered realities and to aid us in challenging this new 'normal'.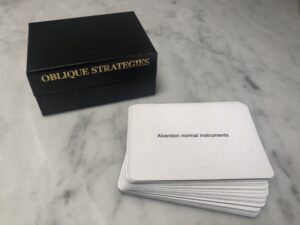 The original Oblique Strategies are a deck of cards devised by Peter Schmidt and Brian Eno as part of their own creative practices and collaboration. Subtitled Over One Hundred Worthwhile Dilemmas the cards hold short, gnomic suggestions, statements or observations and should be drawn from the deck to break an impasse in creativity or aide in a dilemma.
Our very name is inspired by one of the original cards, 'Abandon normal instruments'. With a distinct emphasis on creative enquiry and provocation, over the last decade, Abandon Normal Devices has invited you to think, and then think again.
Now, we invite you to think differently.
Featuring strategies by Addie Wagenknecht (US/AT), Ubermorgen (AT/CH), Joshua Sofaer (UK), Mark Amerika (US), TRES (MX) with further artists to be announced.
Abandon Normal Strategies will be available as 70 x 98mm* Limited Edition single prints or as a collection of 10 from 16th July 2020. Buy yours now. 
*The size reflects the original Oblique Strategies format, allowing these exclusive additions to fit seamlessly with an existing set.
Additional Links
Recent Journals
Other Journals
2023

2022

2021

2020

2019

2018

2017

2016

2015

2014

2013

2012

2011