Introducing the Bands
Mon 23 Sep 2013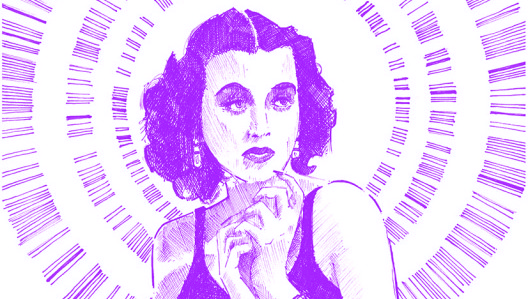 Pictured: illustration of Hedy Lamarr by Paul Hallows.
Building on the success of last year's Empire Drive In live soundtracks we have collaborated with Video Jam on a number of short film live soundtracks as part of evening dedicated to the Austrian inventor, Hedy Lamarr (Experiment Perilous).
Unlike last year we have used short films submitted by amateur and professional filmmakers who responded to our open call. Each successful submission has been paired with a musician/sound artist/spoken word artist, who will use their creative license to compose an original track for the film.
On the night, this track will be performed live as the film is screened, showcasing the 'blind collaboration' between filmmaker and artist. It would be remiss of us not to introduce the bands tasked with performing on the night. So without further ado:
Ex-Easter Island Head
Ex-Easter Island Head are a Liverpool, UK based ensemble, composing and performing music for solid-body electric guitar, percussion and other instruments.
"Precise and pulsing rhythmic minimalism. A three-chord punk mission statement turned into an austere neo-classical manifesto." The Wire, 2011
Horrid
Horrid are an anonymous masked band who have recently supported Moon Duo and soon Ed Schrader. More mysterious than Peter Andre's girl, more mystery than Elvis Presley's train.
Not understanding musical keys, some gigs feature D, some F and G. An anti-anti-hype hyped up maxin' hypeless-hype, hype-hype band, not an anti-hype band. These guys are dramatically becoming the most talked about band in Manchester, soon to be releasing their first record.
Letters To Fiesta
Letters To Fiesta features lead singer Anna-Louisa Etherington has played Video Jam before in April where she scored James Kennedy's documentary film 'Snapshots From Asia.'
Her urgent, volatile voiced as been compared to Kate Bush with the band being compared to Yeasayer and Broken Social Scene. Their haunting ethereal sounds will resonate dramatically in the setting of Liverpool Cathedral.
Jonathan Hering
Jonathan Hering is a composer, performer and musical director. Based in Liverpool, he has played with numerous groups over the last decade, and currently plays with Ex-Easter Island Head, and directs the a.P.A.t.T. Orchestra.
As a performer, Jonathan is a multi-instrumentalist, and has played shows throughout Europe, from Finland to Bulgaria, working alongside artists and composers as diverse as Christian Wolff, Anat Ben David, Trey Spruance and Howard Skempton.
Recent Journals
Other Journals
2023

2022

2021

2020

2019

2018

2017

2016

2015

2014

2013

2012

2011