Preview: Machines By Other Means
Tue 28 Aug 2012
Featuring Lydia Lunch, Mark Amerika, Chad Mossholder, Bo Ningen, Bjorn Veno, GLTI.CH, Oscar Lhermitte and Blue on Blue, Machines By Other Means is an evening of music, live performative actions, video and karaoke in the confines of an intimate 5-bedroomed hotel.
The artists and musicians involved participate in collaborations and live performances that explore the functionality and the relevance (or irrelevance) of machines in contemporary society.
Adopting the structure and framework of a house party to encourage a sense of communality and chaos, the event will transform the tiny hotel – above the 'Sally' pub on Higher Chatham Street, Manchester – into a standalone machine powered by a collaborative urge. The performances and works will be influenced not just by the artists' practice but the audiences who participate and watch. The emphasis – as with any house party – is come in, join in, get involved!
The event takes place on Thu 30 Aug from 21:00 at the Salutation Hotel and is free.
Read on for my 'who's who'.
1. Lydia Lunch, Mark Amerika and Chad Mossholder
A unification of Lunch's provocative spoken words, Amerika's masterful reinterpretation of progressive online technology and sound artist Mossholder's live real time remix of vocal outputs. A vocal lab experiment of sorts, what we will see and hear will be spontaneous and dangerous.
Previous Amerika/Mossholder collaborations can be found here.
2. Bjorn Veno
When developing Machines By Other Means, I began to think about the ingredients for 'the best house party of all time'. I couldn't get the video for The Beastie Boys' Fight For Your Right out of my mind – a house party hijacked by strangers. The best parties are full of these unexpected and spontaneous encounters – as you may find if you run into 'Holy Artist' Bjorn Veno on the night.
3. GLTI.CH Karaoke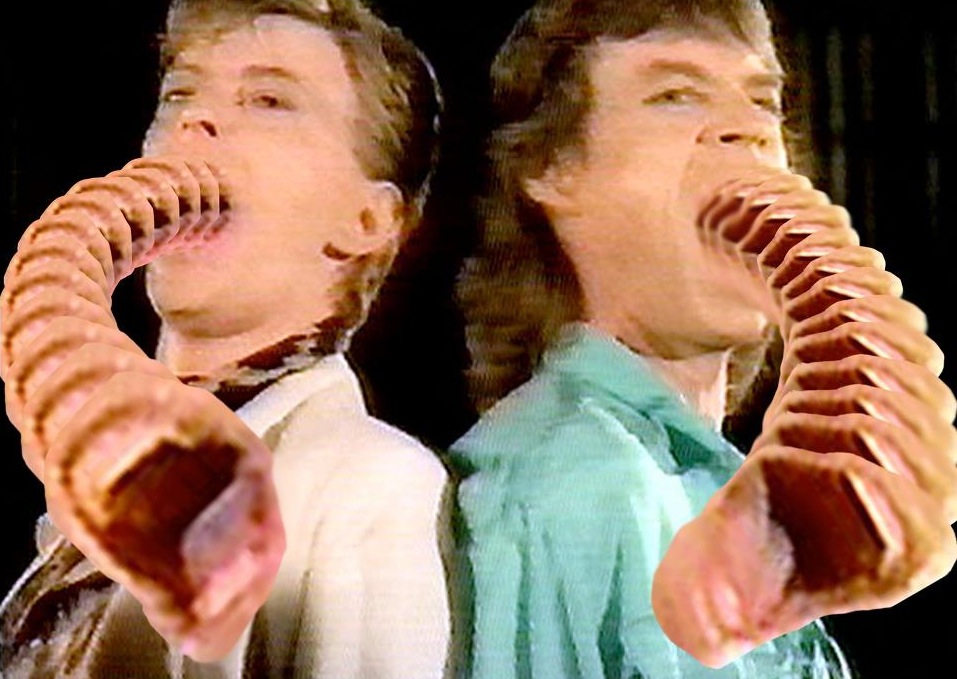 Leading on from Bjorn's spontaneous brief encounters will also be another form of 'hook up', this time between audiences at Machines By Other Means and karaoke enthusiasts in Seoul and London.
In the build-up to their transglobal sing off, GLTI.CH would love to hear what your favourite Karaoke songs are and why.
4. Bo Ningen
I have always wandered what it would be like to have a raucous, loud and sonically gorgeous band play a gig in my bedroom. Bo Ningen are the perfect band to realise this fantasy with their sumptuous sprawling guitars fading out into swathes of fuzz and distortion.
5. Oscar Lhermitte
Experimenting with different ways to make video, designer Oscar Lhermitte has developed a DIY 'drill camera'. Changing the speed of the drill and the frame rate the camera is shooting at, objects and people collide to create unique hues and patterns.
6. Blue on Blue
No houseparty would be complete without DJs. Blue on Blue, fresh from live soundtracking one of our Empire Shorts, will be DJing a unique mixture of songs that will be remixed and retuned live with vintage beat boxes and Akai Samplers.
Those details again: get your glad rags on and get down to The Salutation Hotel, Thu 30 Aug 21:00 til 01:00. FREE, so drop in! www.andfestival.org.uk/events/machines-by-other-means
Recent Journals
Other Journals
2023

2022

2021

2020

2019

2018

2017

2016

2015

2014

2013

2012

2011