Mobile Republic hits the road
Fri 10 Aug 2012
Mobile Republic, a fleet of caravans remodelled by artists, architects and activists, is now on tour!
With the resurgence of the package holiday (The Guardian, Thu 09 Sep), bravo to London Fieldworks, Hellicar & Lewis, The Center for Genomic Gastronomy, Bureau A, Julian Oliver and Designers Republic for proving there's life in the British summer holiday yet.
Over the next four weeks we'll be putting out news of events and live broadcasts via the Twitter hashtag #MobileRepublic. It's a great way to follow all the artists involved and to share your encounters with our digital caravans.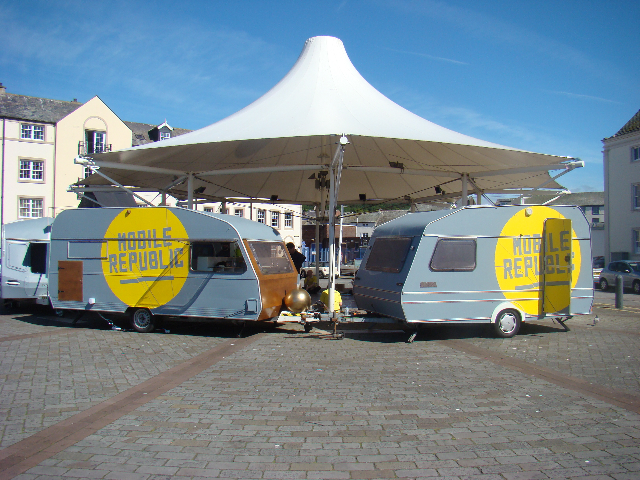 Our vans will draw together in a distinctive 'wagon circle' wherever they go (pictured). The first stop is the marina in Whitehaven, Cumbria, where Mobile Republic will be open Fri 10 Sep to Sat 11 Sep, 12:00 – 20:00.
Among other things, Mobile Republic features the world's smallest blue screen studio, a performance space and a cinema where we'll be screening End of the Road – London Fieldworks' film about travelling communities in Hull and nomadic culture  – together with our 'Caravan Shorts' programme of nine short films:
Stop:Go – Lucy Kendra
A Forest Within A Forest – QNQ/AUJIK (with music by Mira Calix)
Streets in the sky – Leon Seth
Connecting with Nature – Clint Enns
Endless High Street 1: Pret-a-Manger – Michael Pinsky
The Subterraneans – Toby Tatum 
Abelianas – Miguel Hara
Vanishing Point – Beate Hecher
Under the Factory Floor – Janet Brandon
Thanks to all involved for the hard work put into remodelling the caravan interiors. Good luck to them on their continuing tour of the Northwest of England – full dates below.
Mobile Republic tour dates
10 – 11 Aug, Marina, Whitehaven, Cumbria
17 – 18 Aug, Youthzone, Blackburn, Lancashire
29 Aug – 02 Sep, First Street, Manchester
07 – 09 Sep, Avenham & Miller Parks, Preston, Lancashire
Recent Journals
Other Journals
2023

2022

2021

2020

2019

2018

2017

2016

2015

2014

2013

2012

2011