AND Festival 2009
Festival of new cinema, digital culture and art.
Liverpool (UK)
The inaugural launch of AND festival took place in Liverpool over five days in September 2009. It included 12 new commissions, 3 residencies, 5 artists' workshops, 3 industry events, 41 film screenings, 6 exhibitions, 11 live events, 16 education projects, 3 community projects, 5 online projects from more than 50 leading and emerging international artists and film-makers across 20 venues and public spaces. Active audiences 103,820, passive audiences 189,200 and total audiences: 293,020.
The festival explored physical, social and technological concepts of normality. Featuring artworks that were provocative, asking questions in a variety of ways, be they humorous, subtle or direct. Key themes included the body, intimacy and transformation, nomadic identities and trade, and innovators playing with cinematic form.
Artists included the Yes Men, Apichatpong Weerasethakul, Jaki Middleton &  David Lawrey, Duane Hopkins, Carolee Schneeman, Chris O'Shea, Karsten Schmidt and Joel Gethin-Lewis, Tapio Makela, Marko Peljhan, KMA, Krzysztof Wodiczko, Peter Appleton, John Michael Boling Smith, Guthrie Lonergan, Hanne Mugaas, Oliver Laric, Phil Collins, Club de Femmes, Jamie King, The Centre of Attention, Hide & Seek, Blast Theory, Rod Maclachlan, Gordon McKenna, Peader Kirk. 15mm films, DJ Spooky, the Kazimer and Nic Roeg.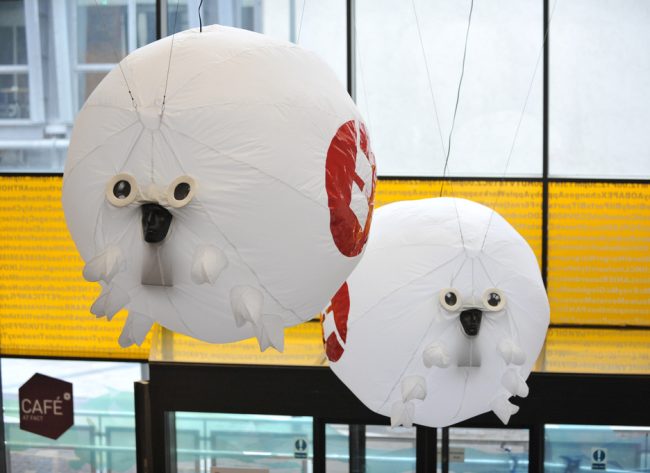 The Yes Men, AND Festival 2009
Presenting Partners:  FACT \\ Cornerhouse (now HOME) \\ folly
Programme Partners:  A Foundation \\ BBC \\ DaDa \\ Liverpool Biennial \\
Open Eye Gallery \\ Royal Liverpool Philharmonic \\ Liverpool Tate \\ The Bluecoat\\ moves \\ Liverpool John Moores University \\ Picturehouse
Festival Supporters: WE PLAY \\ Legacy Trust UK \\ Arts Council England \\ be inspired \\ The City of Liverpool \\ Liverpool City \\ North West Vision Media \\ UK Film Council \\ Inspire Mark
Media Partners:  Little White Lies \\ Electric Sheep \\ Dazed Digital
AND Friends:  Mersey Travel \\ Welsh Mountain Zoo \\ Chameleon \\ Christie Digital \\ Another Media \\ Uniform
Festival team:
Director, Kate Taylor
Co-ordinator, Martina Puchberger
Producer, Gabrielle Jenks
Curatorial team and supporting staff: FACT, folly & Cornerhouse
Abandon Normal Devices was driven by a new collaborative partnership between three of the UK's leading institutions dealing with art and digital culture. FACT (Foundation for Art and Creative Technology) in Liverpool, Cornerhouse (now HOME) in Manchester and folly in Lancaster, joining forces to collaborate on the exciting task of imagining a new festival from scratch.
AND was part of WE PLAY, the Northwest cultural legacy project for the London 2012 Olympic Games and Paralympic Games. WE PLAY was a Legacy Trust UK funded project led by the Arts Council, Northwest on behalf of new regional partnerships. WE PLAY was presented in the Northwest as part of be inspired.
Event info:
Wed 23rd — Sun 27th Sep 2009
Useful links