AND Festival 2017
Festival of new cinema, digital culture and art.
Castleton, Peak District National Park (UK)
AND Festival 2017 Abandon Normal Devices' roving biennial of new cinema, digital culture and art, took place in the heart of the Peak District between the 21-24 September 2017.
Across four days, the festival saw a host of site-specific installations, world premieres and performances take-over the village of Castleton. From satellites to neutrino observatories, fossilisation to free-fall, this year's programme revealed the earth's layers, from the drone's eye view to the sunshine-deprived depths of subterranean bunkers, exploring themes of verticality and deep time in a series of prophetic, provocative and uncanny reflections on the earth.
Going on a journey from inner to outer spaces, the festival was a site for the symbolic and subconscious, where artists become archaeologists of the future unearthing rare sounds, simulated environments and technological ruins.
A rolling cast of enlightened fliers: geomancers, filmmakers and artists took us on a journey from the peaks to the grounds, caves and collapsed caverns of Castleton, artists imaginatively mapped the invisible and material forces that interlink and coalesce into forms and stories, peculiarities and anomalies. There they uncovered what is not immediately apparent.  Stretching back into the farthest histories, the deepest spaces and to the highest points, digging deeper, downwards into the caves allowed us to keep searching, beyond time and beyond the rhythms of human life.
The programme featured installations, exhibitions, field trips and cinema screenings all explored through the five strands of programme Strata, Dis-location, Listening to the Dark, Deep Time and Freefall.
AND Festival 2017 team members were:
Director: Gaby Jenks
Senior Producer: Ruth McCullough
Festival and Touring Producer: Lou Hargreaves
Programme Assistant: Cat Shaw
Head of Communications: Catherine Waddington
Campaigns Officer: Edwina McEachran
Storyteller and Content Producer: Dani Admiss
Volunteer Co-ordinator: Natalie Hughes
Artist Liaison: Lisa Buckby
Peak Cavern Producers: Rivca Burns and Verity Gardner
VR Producer: Tricia Coleman
Tech Lead: Shona Harrison
Former Co-ordinator: Sarah Blaczcock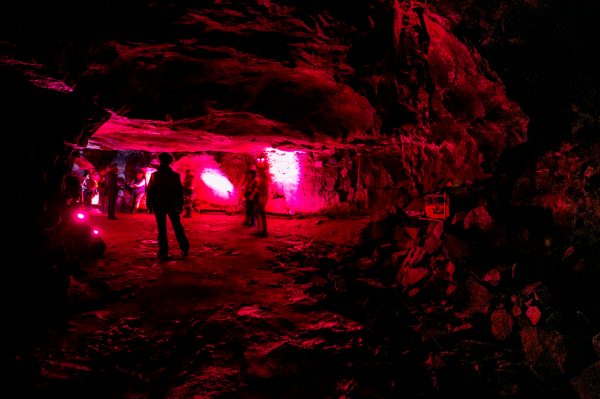 Abandon Normal Devices Festival 2017 was hosted by Peak District National Park and National Trust (Peak District). Supported using public funding by Arts Council England with additional support from BFI,  the Creative Europe Programme of the European Union, British Council (Mexico), British Council (Indonesia), and Sheffield programme partners Site Gallery.
Participating partners include Making Ways, University of Salford, Somerset House Studios, Kikk Festival, Centre de Cultura Contemporània de Barcelona, The Influencers, Transmediale, STRP and National Trust, Trust New Art.
This project has been funded with support from the European Commission. This communication reflects the views only of the author, and the Commission cannot be held responsible for any use which may be made of the information contained therein.
Event info:
Thu 21st — Sun 24th Sep 2017
Useful links