Everything \ David O'Reilly (2017)
The ambulatory sanctuary of the AND Cinema Caravan returned in 2017 with the thought-provoking and ground-breaking work of Irish Artist and Video Game Creator, David O' Reilly. His critically acclaimed procedural video game Everything (2017) is an interactive space that challenges the roles we adopt and the spaces that are inhabited in virtual worlds.
Everything is an interactive experience where everything you see is a thing you can be, from animals to planets to galaxies and beyond. Travel between outer and inner spaces, and explore a vast, interconnected universe of things without enforced goals, scores, or tasks to complete. Everything is a procedural, AI-driven simulation of the systems of nature, seen from the points of view of everything in the Universe.
Everything is narrated by British philosopher Alan Watts and is scored by composer Ben Lukas Boysen.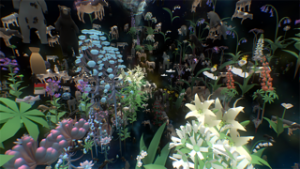 Event info:
Fri 22nd — Sun 24th Sep 2017
Free
Useful links