Double Treble Bobble / Sandra Kendal
June 2016
Penrith
A warm welcome awaits you at Sandra's pop up Crochet Museum.
Sandra Kendal is a newly retired Cumbrian native, living in Cumberland but originally from Westmorland.  Sandra is a crochet fanatic.  She first picked up her crochet hook at the age of nine after finding some in her Grandmother's work basket. She is excited to be sharing the meditative qualities of crochet and its wellbeing potential, and mark this new phase of her life by opening up her Penrith home as a 'crochet museum'.  She admires Kirsty Allsopp and, somewhat surprisingly, is an ex-Fishmonger.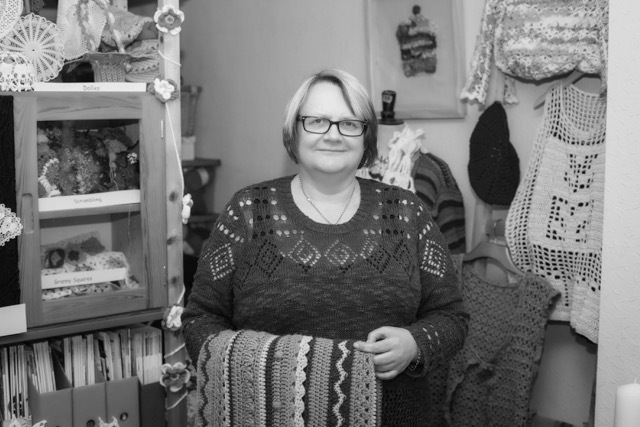 Workshop info:
This workshop was an opportunity to discover the history of crochet in an illustrated talk and an exhibition of equipment, books, worked pieces, patterns, art and literature.  Collected over four decades the pop-up museum in Sandra's front room contains artefacts and patterns connected with crochet from the early 1900's to the present day. Visitors were able to see how the craft of crochet has evolved over the years, and learn about the social history of crochet.
Visitors were also able to try their hand at crocheting. Novices learned how to hold a hook and make the basic chain stitch, while those with experience tried their hand at something new. Everyone left with a pattern, yarn and a hook to continue at home.
'Double Treble Bobble' was part of Workshops In People's Homes.