Make Yourself At Home / Nicholas Collins
Sat 11 and Sun 12 June 2016
Maryport
Design and make your own unique kiln-formed glass piece.
Nicholas Collins is a glass artist based in Maryport.  His pristine studio is a hidden gem within his father's rough and ready workshop.  He makes kiln form glass, a method involving a fusing technique which results in pieces with extraordinary geometric patterns.  He applies meticulous detail within a painstaking process, sometimes travelling to the National Glass Centre in Sunderland to use their specialist equipment.  He sells his work commercially and in interested in expanding his practice into commissioning bespoke pieces and potentially running more workshops.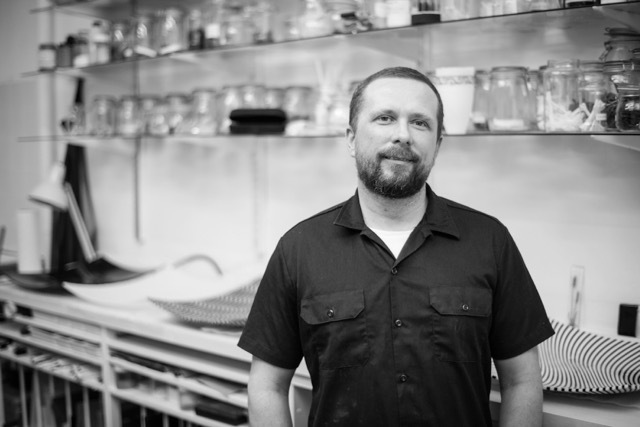 Workshop info:
In this workshop participants were able to design and make a kiln formed glass bowl, platter or window panel for their home. Kiln formed glass has a long history – the Egyptians mastered the technique, which created the colour glass panels on Tutankhamen's gold death mask, and it is still used today.
This was a hands-on workshop in a fully equipped studio, with all materials provided and plenty of one-to-one support throughout this fascinating process from Nicholas.  
'Make Yourself at Home' was part of Workshops In People's Homes.