Abandon Normal Strategies
Inspired by Oblique Strategies, a series of card prompts to overcome creative blocks, Abandon Normal Devices has invited AND artists from the last decade to devise a new collection of strategies reflecting on our altered world and the way we are now required to exist and behave.
During 2020 we find ourselves living within a changed world, requiring new approaches to all aspects of life. Some of these changes are simple – responding to basic needs, adjustments of daily routines – others pose challenges to our core principles and identity. This deeper level of adjustment asks us to consider our ingrained assumptions on the way things work and to seek guidance from unlikely sources.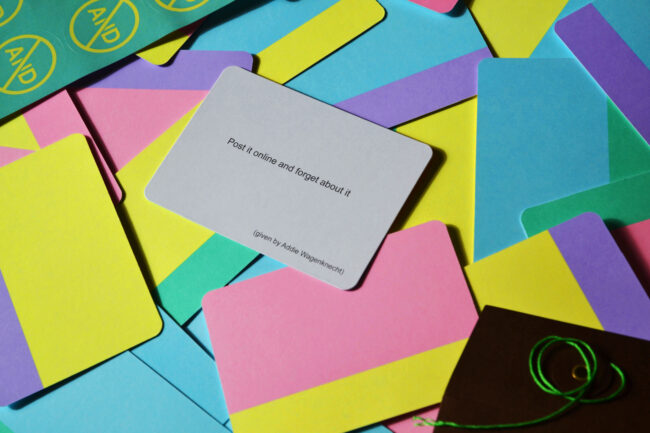 In the midst of our acclimation, postponements and the proliferation of online content we invite you all to Abandon Normal Strategies and ask what now, for how we live, work and create?
The original Oblique Strategies are a deck of cards devised by Peter Schmidt and Brian Eno in 1975 as part of their own creative practices and collaboration. Subtitled Over One Hundred Worthwhile Dilemmas the cards hold short, cryptic suggestions, statements or observations and should be drawn from the deck at random to break an impasse in creativity or aid in a dilemma.  Abandon Normal Devices' very name is inspired by one of the original Oblique Strategies cards, 'Abandon Normal Instruments'.
The new pack features 10 cards with strategies by Nora Al-Badri, Mark Amerika, Wafaa Bilal, Julie Freeman, Laura Juo-Hsin Chen, Julian Oliver, Joshua Sofaer, TRES, UBERMORGEN and Addie Wagenknecht.
Over the last decade, Abandon Normal Devices has invited you to think, and then think again.
Now, we invite you to think differently.
Abandon Normal Strategies are available as exclusive limited edition prints, with each card featuring a new creative enquiry, paired with a bespoke artwork on the reverse. The newly commissioned artworks by Rafaël Rozendaal are a meditation on technology, time and observation. The hyper reduction of horizons in fluro pastels are the artist's impressions of distant views – as seen through our devices – intensified and transmuted by technology.
Lithographically printed on high-quality 400gsm uncoated stock and sized at 70 x 98mm, they will fit seamlessly with existing Oblique Strategies packs. Cards can be purchased as singles* or as a limited edition complete series of 10, which are packaged in a bespoke 175gsm G.F Smith envelope. Domestic and global shipping is included in the price. 
Cards will be addressed by hand and mailed from early August, making a physical connection, between producer, artist and audience, at a time when we have all been asked to reside in a digital frame.
* Single cards will be selected randomly