The Holy Grain / Sue Thurley
5 June 2016
Ulverston
A pilgrimage celebrating nature, nutrition and the most important plant on earth.
Sue Thurley started her working life as a mechanical engineer, moved on to tree surgery before leaving all this behind for a career in nature conservation and or for the last 18 years she has worked on land management, research and community engagement projects.  Wild about the outdoors she can often be seen out and about delving into bogs, nosing around meadows, whizzing across the hills on skis or bike, clinging to a mountain crag or exploring the Cumbrian coastline from her kayak.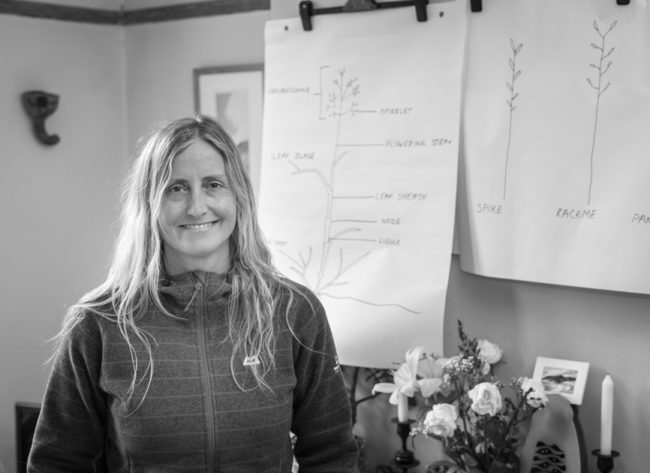 Workshop Info:
Coco and Sue invited participants to join them for refreshments on their front lawn before leading them through their home for an introduction to the delights of all that is grass. Savannah, prairie, steppe or lawn, the humble grass with its narrow leaves and jointed stem is often overlooked in favour of more 'showy' vegetation.
Through dissection, tasting and exploration participants became equipped to separate ligules from auricles, and to distinguish between the Anthoxanthum, Poa, Festuca, and Zea. We discovered the many benefits and uses of the humble grass, before embarking on a two wheeled journey (on bike!) to sort the wheat from the chaff, seeking the powers and richness of the perfect grassland.
'The Holy Grain' was part of Workshops In People's Homes.