We Dwell Below / Ooni
We Dwell Below invites you to traverse the underground in this playful multi-user virtual reality (VR) installation. Transforming the everyday into the extraordinary, Ooni Studio invite you to eat your way through the underground with 'uncivilised' fellow dwellers in a comical one-off experience. Become a virtual cave-dweller, sit round a campfire and explore alternative habitats as you excavate the different layers of strata. 
Laura Juo-Hsin Chen has called herself the Michel Gondry of VR, in We Dwell Below, Ooni present a collaborative experience, allowing visitors to adorn themselves with custom costumes in a rendered geological landscape.
For an ongoing update on the project follow the We Dwell Below Tumblr. 
Booking: This is a free event, no booking required.
Ooni Studio. Concept and direction by Laura Juo-Hsin Chen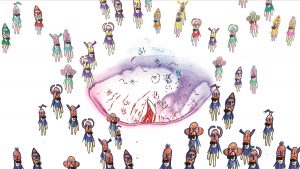 Event info:
Thu 21st — Sun 24th Sep 2017
@18:00-20:00, Thu, 12:00-18:00, Fri & Sat, 12:00-17:00, Sun, FREE
Useful links