Artist Preview: SEFT-1
Tue 24 Sep 2013
Los Ferroutauas take to the Roads, Rails & Waterways of the Northwest.
The AND team like a challenge and we didn't know quite what to expect when we invited the wonderful Los Ferrounautas, artists and brothers Ivan Puig & Andrés Padilla Domene, to bring their SEFT-1 "Manned Railway Exploration Probe" from Mexico this summer.

It's been an exciting challenge from the very start, shipping and transporting a bespoke vehicle that travels on road and rail has resulted in some complex and comical conversations with customs, the DVLA and motor insurers.
The brothers relocated to Blackburn in early September to start their one month residency as part of AND. They have been working hard at the getting the vehicle road worthy and weather proof for exhibition at AND in Liverpool, while researching the unique industrial heritage and history of the region.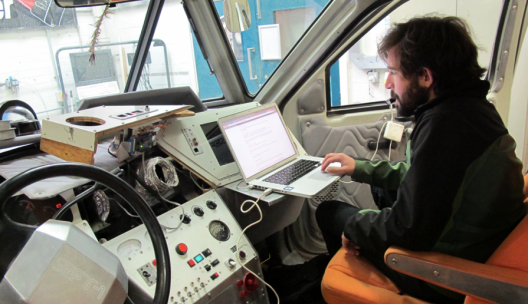 This week the artists take to the waterways, living and traveling on a narrow boat along the Leeds to Liverpool canal as part of the research into the industrial archeology of the region.
They will be arriving in time for the AND Opening Night on Thu 03 Oct at 18:30, and making a further appearance for the AND Fair on Sat 05 Oct.
Recent Journals
Other Journals
2023

2022

2021

2020

2019

2018

2017

2016

2015

2014

2013

2012

2011