COSMOS: A conversation with researcher Philippa Hartley
Wed 04 Jul 2018
In anticipation of Addie Wagenknecht's work Hidden in Plain Sight for COSMOS18, we asked researcher Philippa Hartley from The University of Manchester to talk about galaxies, the journey of data and her involvement with the residency. 
My job as a researcher is to transform huge amounts of abstract data into a final, coherent product which we can use to interrogate the Universe of which we are a part. The final results can be published for public record and discourse, but most of the process is lost – confined to the engineers' workshops, to technical manuals and log books, and random scraps of paper. Within that process there is beauty and wonder – within the patterns of the data, the algorithms we use to transform it, and the structure of the huge instruments which receive it. Before the data even reaches us, there is a history – a truly cosmic history – of its journey through space to get to us. This is what excites me so much about this project – Addie's work encapsulates that whole process and presents it in a beautiful way.
Throughout the residency we have had the opportunity to discuss our work extensively with both Addie and Stefan. It's been so interesting to see from the artists' viewpoint and to explore the data in new ways. Our discussions have been highly technical, exploring our data from its very beginnings as voltages induced by radio waves arriving from the depths of space, to the complex combination of data of received by vast arrays of telescopes. We have provided Addie with several datasets which span various stages of this journey. My own contribution represents a new epoch in the data journey: the use of the artificial intelligence.
We are at the beginning of a new dawn for astronomy, in which new telescopes and technological advances will result in an exponential rise in the amount of data available to us, enabling us to see further and fainter objects than ever before. Billions of distant galaxies will be imaged, allowing us to probe the most fundamental questions about the nature of our Universe. At Jodrell Bank we have been designing machine learning tools which can make sense of that data in a fraction of the time and with much greater accuracy than human researchers. We've been able to do things like find rare objects such as strong gravitational lenses – phenomena predicted by Einstein and manifesting as dramatic arcs and rings in space – by showing a computer thousands of simulated images before asking it to find similar images in real data from space. For me, Addie's exploration of these brand new forms of data within the projection onto the Lovell telescope, itself built during the birth of the era of radio astronomy, underlines the dynamic and evolving nature of our technology.
The COSMOS commission not only represents the work we do here at Jodrell but also closes the circle on the process of how I got here. Visiting the observatory as a young child was a formative experience in my life; seeing the Lovell telescope and feeling the sense of possibility – and almost magic – in this huge monolith reaching out into the depths of space inspired me then, just as it still does today. Being able to contribute to a commission that will in turn inspire a new generation is incredibly exciting for me. Particularly thrilling is the sense that Addie's work will convey that very same sense of wonder that stirred me as a child: the awe of looking up at the telescope and imagining what it is seeing.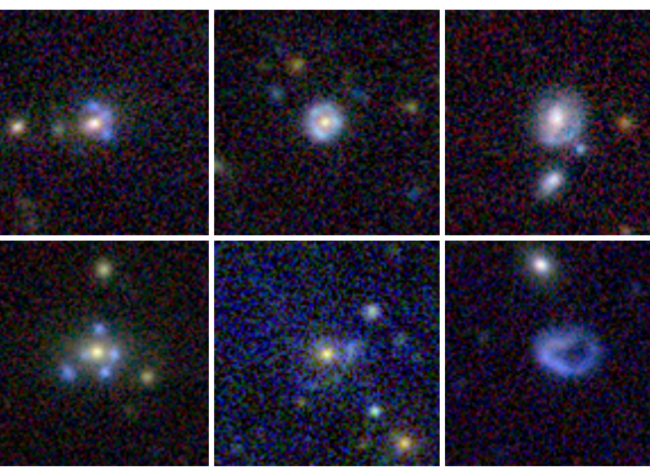 Example of images sent to Addie to assist in the research stage of Hidden in Plain Sight
During bluedot festival the Lovell Telescope will be receiving radio signals from deep space whilst pointed at the zenith, directly overhead. Wagenknecht's new artwork will be projected directly onto the structure of the telescope.
More details of Hidden in Plain Sight here, track our journey #COSMOS18
COSMOS is a flagship international artists commission and residency for Lovell Telescope. Produced by Abandon Normal Devices, commissioned by Jodrell Bank Observatory, SHIFT and Abandon Normal Devices.  Supported by the University of Manchester, bluedot, Arup, Austrian Cultural Forum and with public funds from Arts Council England.
LiDAR* scans of the Lovell Telescope used in the production of COSMOS are provided by Arup.
*(Light Imaging, Detection, And Ranging)
Additional Reading: Philippa's article of Machine Learning research.
Recent Journals
Other Journals
2023

2022

2021

2020

2019

2018

2017

2016

2015

2014

2013

2012

2011