Introducing the bands
Wed 29 Aug 2012
Live soundtracked films are a big part of Empire Drive-In and it would be remiss of us not to introduce the bands responsible. So without further ado:
1. Gnod
From: Salford
Soundtracking: Bryan Papciak's Met State
When: Wed 29 Aug, 20:00 – 21:00 as part of Empire Shorts
More info: Online music journal The Quietus put it best, describing Gnod as "steeped firmly in psychedelia but drawing from influences as disparate as Afro-beat, krautrock, drone, jazz and dance music".
2. Brent Green, Mike McGinley, Jamie Reeder and Todd Chandler
From: New York/Chicago
Soundtracking: Dolls Vs Dictators (video excerpt above)
When: Wed 29 Aug, 20:00 – 21:00 as part of Empire Shorts
More info: Four multi-talented US artist-musicians who will combine (like Gundam) with a host of others to soundtrack Gravity Was Everywhere Back Then at Empire Drive-In the following day. But we'll get to that (and more about them) in just a minute…
3. Blue on Blue
From: London
Soundtracking: Splitting
When: Wed 29 Aug, 20:00 – 21:00
More info: Blue On Blue describes themselves as "a duo, a partnership and an apolitical movement". They are obsessed in equal parts with the creation of unique sounds and the poetry of confessional lyrics, deconstructing classic song structures in a subverted way, and experimenting with the physicality of audio via modified instruments and perverse musical techniques.
4. Plaster of Paris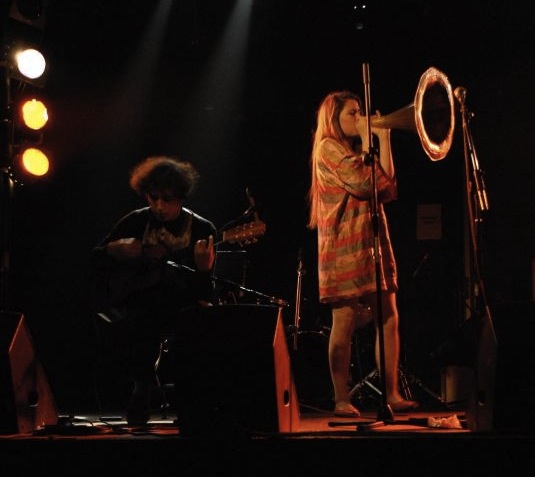 From: London
Soundtracking: One Week
When: Thu 30 Aug, preceding Gravity Was Everywhere Back Then
More info: Plaster of Paris are an infamous band, playing the festival circuit for years but remaining just out of the public eye. The started off as a two piece, vocalist Molly Caroll & Lewis Jones on guitar, ukulele and an assortment of stringed instruments. They soundtrack One Week, a 1920 film co-directed by and starring Buster Keaton.
5. The Gravity Was Everywhere Back Then Ensemble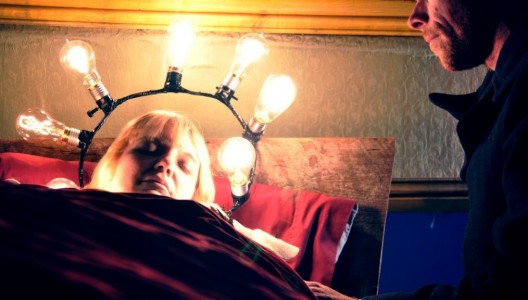 From: Here, there and everywhere
Soundtracking: Gravity Was Everywhere Back Then (pictured)
When: Thu 30 Aug at 21:30
More info: An 'artist supergroup' providing not only a live soundtrack but sound FX and voiceover. The ensemble features Brent Green (vocals, narration), Michael McGinley (viola, clarinet), Jamie Reeder (violin), Lee Kern (guitar) and special guests from Plaster of Paris (mentioned above).
Brent is of course the filmmaker who created Gravity Was Everywhere Back Then. He has also worked with members of Fugazi, Califone, Giant Sand, Arcade Fire and the Dirty Three.
Mike McGinley is the founder the Chicago punk cabaret band The Bitter Tears and a touring/recording member of Califone.
Todd Chandler was a founding member of the band Dark Dark Dark and is co-creator of Empire Drive-In.
Violinist Jamie Reeder has worked with Grizzly Bear, Helado Negro, Jaytram, and Tarantula.
Lee Kern is a video-maker, comedian, performer, and guitar player. <plug>His television programme Lee Kern's Celebrity Bedlam plays on E4 on Wednesdays at 10pm!</plug>
Recent Journals
Other Journals
2023

2022

2021

2020

2019

2018

2017

2016

2015

2014

2013

2012

2011