Live Blog #1: Disrupting Business
Fri 04 Oct 2013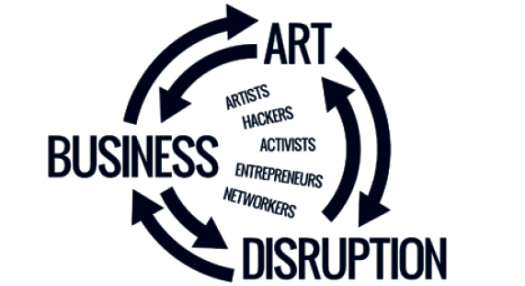 Pictured: Tatiana Bazzichelli, Disruptive Loop Diagram, 2011
We're blogging live from the AND Hub, which is our pop up venue for screenings, talks and public showcases. Join us in person from 3pm or follow the conversation via CoverItLive (see below).
You can contribute via the Twitter hastag #AND2013
This afternoon: Disrupting Business
This talk will bring together media hacktavist / venture communist Jeff Mann from Telekommunisten and curator Geoff Cox to discuss their intervention into online business.
Jeff Mann is a Canadian artist and technologist, living in Berlin, and one part of Telekommunisten. He's here at AND 2013  to premiere and talk about our new online commission Miscommunication Station.
Geoff Cox is Associate Professor in the Dept. of Aesthetics and Communication, and Participatory IT Research Centre , Aarhus University (DK). He is also an occasional artist, Associate Curator of Online Projects for Arnolfini, and part of the self-institution Museum of Ordure.
Recent Journals
Other Journals
2023

2022

2021

2020

2019

2018

2017

2016

2015

2014

2013

2012

2011