Meet the Board – Katie Moffat and Sam Bompas
Wed 30 Nov 2022

Curious about what a Board Member actually does?
We sat down with two of our current Board Members, Sam Bompas and Katie Moffat, to find out what inspired them to join the AND Board, and what it's like to be active Board Members of an arts organisation.
Can you tell us why you chose to become a Board member?
Katie – To support what I think is a brilliant, exciting small arts charity, doing truly original work in surprising places. 
Sam- AND is a phenomenally inspiring and engaging organisation, and the opportunity to support it through Board membership has been a joy.

Throughout my career I've been interested in how public spaces can be transformed through creative innovation, and this is an arena in which AND has always been a pioneer.
What's been your proudest moment with AND to date?
Sam – Standing on top of a mountain in Castleton overlooking a gully filled with lasers, smoke and people was a terrific experience (click here to find out more about Waterlicht, a large scale digital installation by Daan Roosegaarde).

At the time, I was an enthusiastic audience member and an unofficial advocate for AND. Moving from being an audience member to being part of the organisation's governance and contributing to the future of AND has been thrilling. 
Katie – I agree with Sam. Attending the 2017 AND Festival in Castleton was incredible. It was such an ambitious idea, so brilliantly realised by a very small team.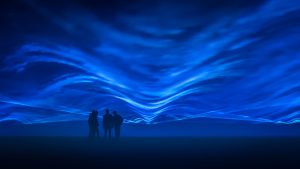 Before joining the Board, was there anything you saw that made you think 'wow, I need to be a part of that organisation?'

Sam – In Grizedale Forest in 2010, AND showed that art could be wild, unexpected and a window to the future. Until that point, most of the art I'd seen wasn't delivered with an ethos, medium or punch I found particularly stimulating.

Arambo, by Geoffrey Alan Rhodes, was a unique, interactive cinema experience set in a woodland cabin. Audience members used playing cards to remix the most visceral bits of Stallone's Rambo, live on screen.

Artist Rob Ray then gave us a disorienteering kit, a compass and instructions to 'GET LOST!' and find our adventure in the woods, as
'the sense of calm that comes from knowing where you are at all times can be reassuring, but also a bit boring.'
This was everything I wanted art to be! Hairy, muscular and encouraging exploration.
Why should people apply to become Board Members of AND (and charities more widely?)
Katie –  Now more than ever we need the arts, without them, our lives would be immeasurably duller.
Arts charities need volunteer trustees to help support and guide them, but perhaps more importantly, you'll learn loads and derive a great deal of satisfaction from being involved.
Sam – There are countless reasons for becoming a Board Member of AND, and ultimately, the reasons will be personal to you. However, before you apply, it's worth thinking about how you'll be best able to contribute to the organisation, and how you'll be able to support AND to ensure it continues to spark joy for many years to come.

I'm enthusiastic about bringing what I've learnt in the field of creativity in the private sector, to bear for AND's advantage. I'm looking forward to future commissions and attracting even broader audiences, while delivering the same high calibre of work that AND is known for. 
Would you recommend becoming a Board member to your friends and family? 
Katie – Absolutely! It's a relatively small amount of your time to volunteer, and in return you have the chance to get involved in something fascinating and rewarding.
Sam – Being on the Board brings with it a terrific sense of camaraderie and spirit, a sense of care for the organisation and pride in its ability to create spectacular new forms of art.

Personally, I've learnt so much from the brilliant minds and experiences of the other board members, who are all deeply invested in the organisation and are really supportive of each other. Participating in the AND Board has been extremely useful in terms of approaching and applying governance, resource and business policies for my own business, Bompas & Parr.

Abandon Normal Devices are currently looking for individuals to join our Board in 2023!
Are you interested in shaping AND's future development or learning from our Board of Trustees to gain valuable experience? We're searching for dynamic and committed people to support our vision as we look forward to our 15 year anniversary & 10th edition of the Festival. Read about these exciting roles and how to apply here.
Recent Journals
Other Journals
2023

2022

2021

2020

2019

2018

2017

2016

2015

2014

2013

2012

2011