Setting the Scene
Fri 23 May 2014
The film industry has been cautious of change, but the analysis of data and statistics alongside the use of social media by audiences is now too big to ignore – it is changing  how movies are made and viewed. As part of AND's ongoing interest into "new cinema" we are running a number of hacks through 2014, which bring together technologists, hackers, directors, distributors – and everyone in between to consider the role of data, in the industry.
"Hack #1: For your viewing Pleasure" is the first and as it says on the tin: this hackathon is all about FILM + DATA.  We want to know what YOU, the audience want out of the cinema experience. We'll have some interesting data sets from partners (e.g. BFI & Cornerhouse to name a few) that you can mash up with other open data sets (Government, Weather, Public Data) as well as data related to film (TMDB API, IMDB, Trailer API) and many more.
We're not expecting the next killer app, but we see this more as a chance to play around, experiment with some data, find like-minded people and above all – have fun. If you're a true cinephile, you won't blink an eye at the thought of spending all day in a semi-darkened room. We even have free pizza, unlimited caffeine and the chance for the winning hack to be further developed.
Messing about with film data, content and metrics from the user point of view is nothing new but the tech is always changing, so here's a roundup of some of our favourites to inspire you into action.
The Bechdal Test is a simple test which filters films through the following  criteria: (1) It has to have at least two women in it (2) Who talk to each other, about (3) Something besides a man.
The test was popularized by Alison Bechdel's comic Dykes to Watch Out For, in a 1985 strip called The Rule; The website uses a simple emoticon symbol to judge the films and it has been an inspiration for a number of film gender bias infographics . Not everyones favourite, it has caused quite stir amongst some critics .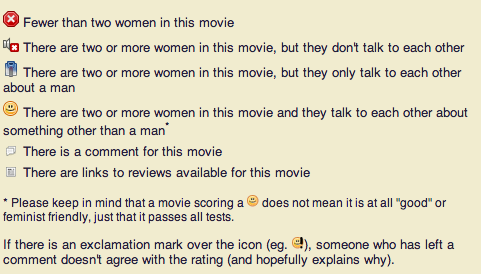 RunPee is for those with a small bladder or always running late- you know who you are! Neat features include: recommendations of when to go to the toilet (so, boring scenes are noted), a synopsis of what you missed while you dashed out and a round up of the first 5 minutes of the movie in case you're running late.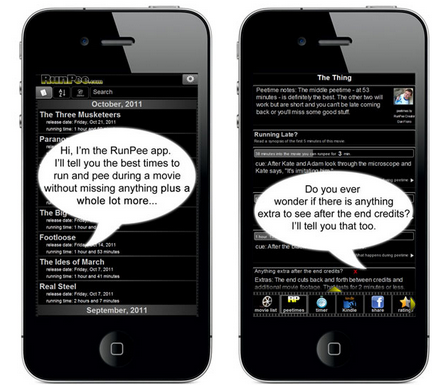 Frederic Brodbeck's research project, Cinemetrics provides an alternative way of looking at movies by moving away from the traditional and formal criteria of judging film to consider amongst many things, colour and speech. He demonstrates that data inherent in the movie, which is normally unnoticed can be highlighted in one visualisation. His slick generative designs create visual fingerprints for films, analysing information such as the editing structure, use of colour or motion. 
Visualisations:
Anymore suggestions please add your comments below to share your thoughts or catch us @ANDfestival or #filmdatahack. The ANDHack event will take place on the 28-29th June kicking off with a little pre-hack social the night before, all happening at the Cornerhouse. Find out more and grab a spot here.
We have a few travel bursaries on a first come basis – email hack@andfestival.org.uk for more details.
Recent Journals
Other Journals
2023

2022

2021

2020

2019

2018

2017

2016

2015

2014

2013

2012

2011