Behind the Scenes
Mon 07 Sep 2015
'In the Eyes of the Animal' has its world premiere during the festival, which takes users on a fascinating journey that allows them to fly above the forest canopy, come face-to-face with hi-definition critters and embody various animals as they traverse the Grizedale landscape. They have been releasing stills and moving image footage in development.
To give you a sense of how this has been created Marshmallow Laser Feast have used an aerial 360° drone. LiDAR and CT scanning. They have artistically interpreted the sensory world of the animals and built a real time system that dynamically visualizes precise LiDAR scans of the forest and CT scans of the animals. Check out the dragonfly image below.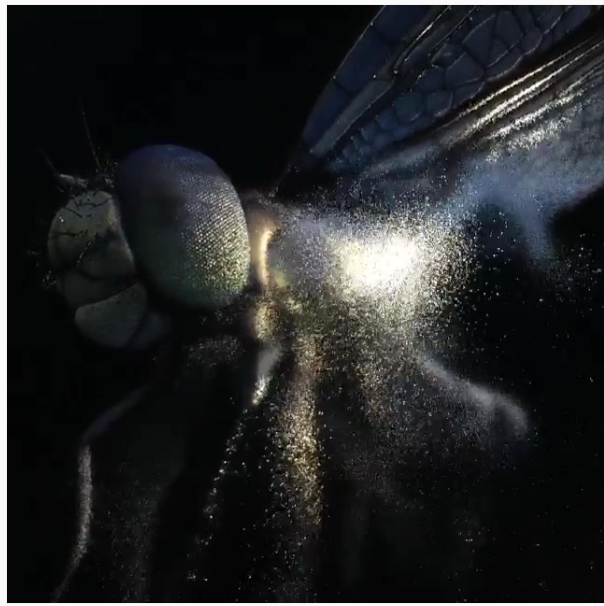 In addition to recreating trees and plants as VR entities, MLF also added many creatures. Some were captured via a photogrammetry rig and others CT scanned by the Natural History Museum in breath-taking close-up, super hi-def detail. These scans gave MLF an opportunity to digitise the microscopic world and perspectives of forest animals using custom software.
Binaural sound design also increases the audience's sensory experience of the virtual environment by mimicking the natural perception of sound in space. People will not only be able to hear the animals' environment through headphone-delivered audio, they will also be able to 'feel' the sounds thanks to a wearable Sub Pac device that turns the audio vibrations into a tactile experience.
The ultimate goal is to create an understanding of how these animals process optical information and so give people a chance to reflect on their own visual perceptions of the forest.
Additional Links
Recent Journals
Other Journals
2023

2022

2021

2020

2019

2018

2017

2016

2015

2014

2013

2012

2011