Keep it Slick: Infiltrating Capitalism with the Yes Men (2009)
"Over the past decade The Yes Men have fearlessly taken on the world's biggest corporations and bureaucracies. Infiltrating the elite realm of the influential and the moneyed, cloaked in the sheerest layer of authority–thrift-store suits, quick-print business cards, forged press releases–these social activators urge us to question where ethics belong in our capitalist-driven society." Curator, Astria Suparak
Considered among the most important political artists of the last decade, The Yes Men are a group of culture-jamming activists who aim to highlight how corporations and governmental organisations often act in dehumanising ways towards the public. AND presented the very first UK solo exhibition featuring their costumes, sketches, scripts and research materials for their bold interventions.
The Yes Men posed as their industrious alter-egos to expose the people profiting from environmental disasters.
Part of the AND Festival 2009 programme, created in collaboration with Liverpool John Moores University, and curated by Astria Suparak, director of Carnegie Mellon University's Miller Gallery, Pittsburgh. 
A screening of The Yes Men Fix the World was held at LJMU, Art & Design Academy, Auditorium on Sat 24 October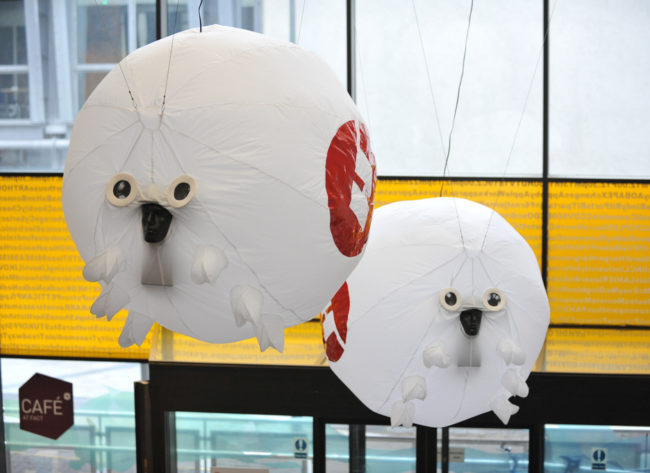 Event info:
Wed 23rd Sep — Tue 27th Oct 2009
John Moores University
Useful links