AND Echoes: Edwina McEachran
Mon 24 Aug 2020
As the 9th edition of AND Festival has paused, we are reflecting on festivals and events gone by and celebrating the brilliant individuals who make these extraordinary moments happen. In the fourth of our series of blogs from the AND team, Festival Communications Co-ordinator Edwina McEachran remembers one of her favourite locations to work in; Peak Cavern (The Devil's Arse) within Peak District National Park.
For AND Festival 2017, AND curated a spelunker double bill inspired by the rolling landscape of Castleton. You really can't get much visceral than watching The Descent (2005), (a cult adventure thriller set inside the dark caves of North Carolina), inside The Devil's Arse itself; a sprawling cave opening in the quiet, little Peak District town, Castleton.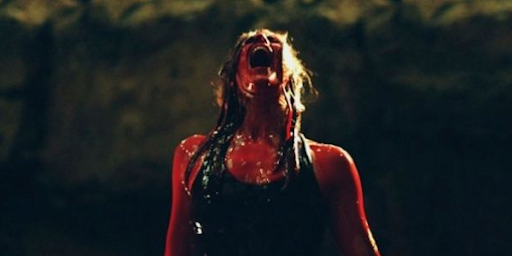 I could feel the September weather creeping in as everyone was queuing up alongside the entrance and settling into their seats for the night. A few blankets for warmth (to hide behind) were scattered across the chairs, hoods up incase an unsuspecting shadow was caught in the corners of our vision. I was sitting at the welcome desk, just at the top of the cave's mouth, looking out onto the road that led back out into Castleton. There wasn't much noise apart from the shuffling of bodies coming in and out – I thought because I couldn't see what was going on (I was facing away from the screen), that maybe I wasn't going to get scared. A mixture of nervous laughter and jump scare shrieks echoed up and down the cavernous walls as the movie crept on.
There is something very thrilling and comforting about being in the cinema together, something that I have missed greatly over the last few months of lockdown. A very specific feeling of being together and being alone in darkness all at once (Roland Barthes' essay On Leaving the Movie Theatre sprung into my head whilst I wrote this). I'd never been to an immersive screening or a drive in before, so although I wasn't watching the film, I felt like I was still in on it, feeling the weight of the cave's presence around me, adding to every unexplained noise, every flutter of someone's (or something's) shadow.
It was most tense when the audience stopped laughing, stopped shrieking. I felt like I could have been on my own for a second inside this overbearing space. In the day The Devil's Arse is a vast underground network perfect for family adventure, but at night when the lights are out, it felt like somewhere you really shouldn't be on your own… 
AND's Horror Movie Spelunker Double Bill featured The Descent (2005) and Tremors (1990) (pictured above) as part of AND Festival 2017.
Edwina has been working in AND's comms team since 2017, working on AND Festival, COSMOS and the annual programme. When she's not at AND, Edwina is a freelance marketer for other festivals and arts organisations, as well as a creative producer. She is currently a Board Member at Heart & Parcel. When she's not working, Edwina is usually cooking lavish meals for friends or fermenting things.
Recent Journals
Other Journals
2023

2022

2021

2020

2019

2018

2017

2016

2015

2014

2013

2012

2011