AND Echoes: Lou Hargreaves
Thu 28 May 2020
As the 9th edition of AND Festival has paused, we are reflecting on festivals and events gone by and celebrating the brilliant individuals who make these extraordinary moments happen.

In the second of our series of blogs from the AND team diving into our archive, producer Lou Hargreaves recalls one of her favourite projects. 
One of my favourite things about working as part of AND is the opportunity to work in all sorts of weird and wonderful locations and the exciting opportunities and challenges this presents. They've all been memorable in their own ways but one that always sticks in my mind (definitely falling into the wonderful category) has been Watch the Skies! back in 2014. Watch the Skies! was a flagship event for BFI's Sci-fi season and the first-ever cinematic event at the iconic location of Jodrell Bank Observatory in Cheshire.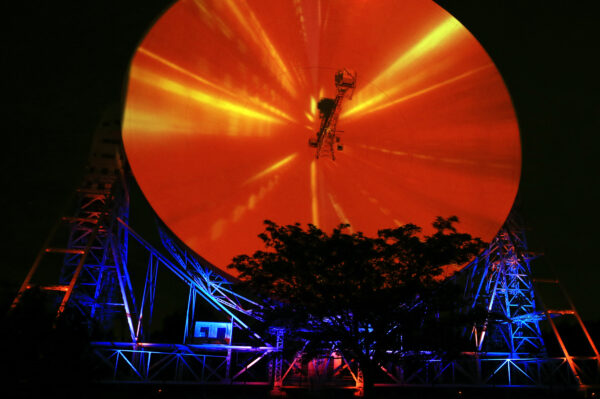 This was such a great project to be part of. Over two evenings we screened two incredible sci-fi classics – 2001: A Space Odyssey and Alien – alongside the premier of Oneohtrix Point Never's new original soundtrack for Magnetic Rose and a new audio-visual commission Jodrell Bank Calling from Soup Collective created especially for the Lovell Telescope.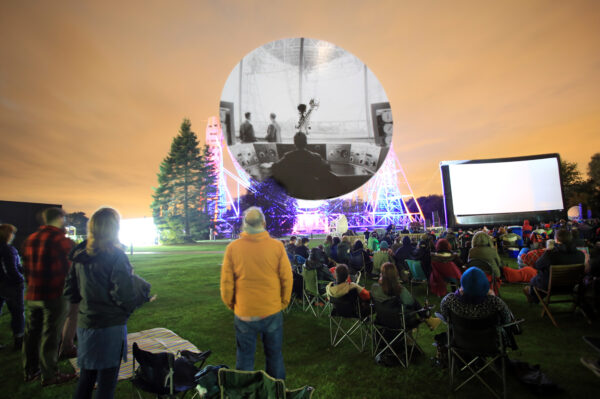 You couldn't have asked for a more awesome location with so many rich connections to the programme. One of the most serendipitous discoveries was that whilst preparing for filming his landmark sci-fi epic 2001: A Space Odyssey, Stanley Kubrick interviewed a selection of scientists including Sir Bernard Lovell. The transcripts of these conversations document fascinating discussions on the possibilities of extra-terrestrial cultures, intelligent computers and the origins of life. This made the screening of the film under the watchful eye of the Lovell Telescope even more magical.
Lou started working with AND as a freelance Producer back in 2013 and has since worked on a number of events and projects over the years including 4 editions of the festival. As a freelance producer Lou has worked on projects for Liverpool Biennial, a-n, BBC, Centre for Contemporary Chinese Art and National Trust. Lou became a permanent member of the team in April 2019 as Programme Producer. When she's not on Zoom she keeps sane by taking her dog Luna for a walk and has discovered a new passion for jigsaw puzzles!
Watch the Skies! was curated by Abandon Normal Devices and produced in partnership with Jodrell Bank and Live from Jodrell Bank Transmissions and funded with the support of the BFI, awarding funds from The National Lottery
Recent Journals
Other Journals
2023

2022

2021

2020

2019

2018

2017

2016

2015

2014

2013

2012

2011