AND Echoes: Tricia Coleman
Fri 19 Jun 2020
As the 9th edition of AND Festival has paused, we are reflecting on festivals and events gone by and celebrating the brilliant individuals who make these extraordinary moments happen. In the third of our series of blogs from the AND team diving into our archive, Festival Producer Tricia Coleman recalls one of her favourite projects. 
There's an Iris DeMent song called 'Childhood Memories' my dad played in the car when I was young which starts with the words, 'Fireflies inside of a mason jar…', that song always comes to mind when I remember Love Motel for Insects, conjuring up images of my own childhood memories of long hot summers and humid evenings spent outdoors.
A living sculpture series from artist-biologist Brandon Ballengée, Love Motel for Insects saw a new iteration – 'Ephemerella Ignita', commonly known as the mayfly – commissioned for and presented at AND Festival 2015.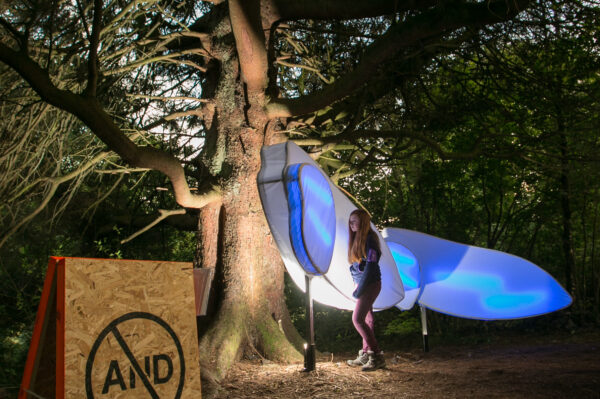 Ballengée installs new sculptures all around the world responding to local habitats and allowing unique observation opportunities for audiences to better understand the insects in their local area.  Illuminated against the Cumbrian night, the glowing structure attracted all manner of bugs and beasts, allowing us to observe and identify them as they inhabited the sculpture. The title of the series references the instances the temporary residents have taken the opportunity to mate – but Grizedale Forest in September was one of the cooler host climates and perhaps not the one best poised for romance…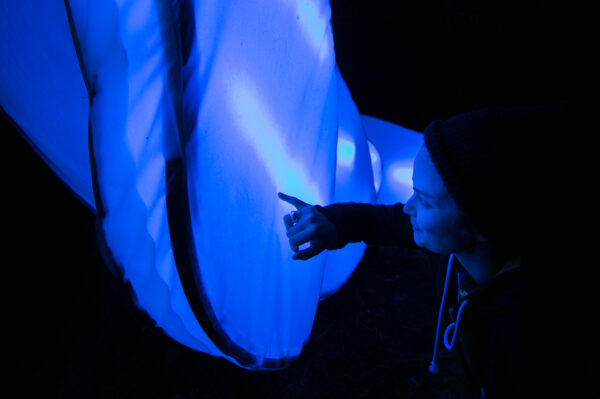 The mayfly can be found in Cumbrian freshwater wetlands as well as other places in the UK, and their extraordinary wings, similar shape to that of a dragonfly, formed the unique design for this iteration.  The sculpture comprised a steel frame, UV lights and marine canvas, chosen for its waterproof qualities to protect the inner electronics.  It was one of the first projects to be installed as we wanted to 'establish' it into the landscape in advance so that the wildlife became comfortable with its presence.  Good job we allowed extra time as the first batch of fabric we ordered was coated in a waterproof treatment which stopped the UV from penetrating, so a second type had to be ordered and hastily sewn up to size… luckily this worked better!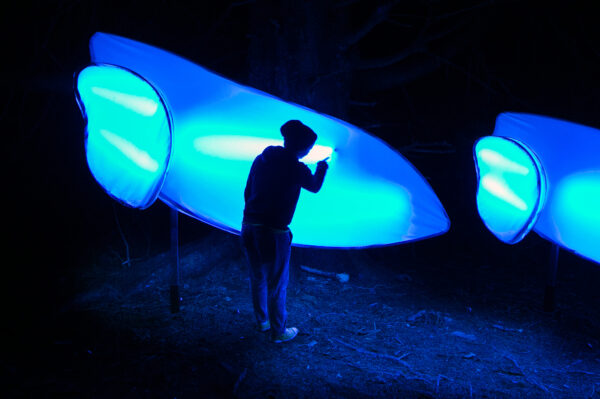 Finding the right home for the sculpture in the forest took some work – we wanted the work to act as a beacon for humans as well as arthropods, yet feel embedded into the dense foliage of the forest.  On one of our many 'research walks' around the forest, we found a cosy nook just off one of the popular paths which worked well – under a tree and not far from a stream, only a few minutes walk from the Festival hub.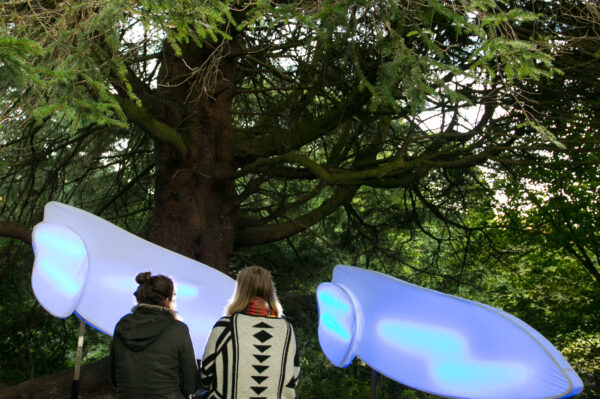 Grizedale Forest is a long way from Ballengée's resident Louisiana or Iris Dements' Arkansas, but in those last days of summer no less humming with insect life.  I hope in some small way we created some new memories for AND audiences through the gatherings, observations and the torch-lit walks we did around those glowing wings back in 2015.
Tricia is a freelance producer working in theatre, performance, installation and live music with a special interest in playful, interactive and digital work. When not with Abandon Normal Devices, Tricia might be producing for Manchester International Festival or immersive theatre company The Other Way Works.
Tricia first worked on AND Festival 2015 in Grizedale Forest where she produced presentations of: In the Eyes of the Animal (Marshmallow Laser Feast); Love Motel for Insects (Brandon Ballengée); Peak Simulator (Mathew Plummer-Fernandez); Where the City Can't See (Liam Young).  Tricia's taken various AND projects on tour including Joshua Sofaer's Workshops in People's Homes where she learnt she's rubbish at crochet. 
When not working, she's generally running or out with her (part-time) Shih Tzu Carley. 
Recent Journals
Other Journals
2023

2022

2021

2020

2019

2018

2017

2016

2015

2014

2013

2012

2011