Beatrice Dillon & the "Marrison Loop"
Tue 12 Sep 2017
Beatrice Dillon is a producer and composer based in London, with a series of critically-acclaimed solo, collaborative and remix works on labels including Boomkat Editions, PAN, The Trilogy Tapes and Where To Now? With a background in Fine Art, Beatrice has collaborated closely with award-winning visual artists presenting her works internationally. She recently developed a new commission for artist Jorinde Voigt at Lisson Gallery.
After Beatrice's recent nomination for Jules Wright Prize, awarded to UK based female creative technicians working within the field of the moving image, we invited her to share some thoughts about her residency at AND festival.
Let's start with a story I've been told that involves you, a taxi ride, and Pauline Oliveros…
I took a cab last year along the motorway into Utrecht with Pauline and Ione. In the back I kept thinking of this interview where Oliveros describes childhood car journeys listening to her parents voices 'being modulated by the car motor.' She was pretty surprised when I showed her one of her records in my bag which I was planing on playing that evening at Le Guess Who? festival.
What is it about Pauline Oliveros' concept of listening that you wanted to explore in this commission?
I admire Oliveros though I wouldn't say I've been particularly influenced by her concept of 'deep listening', but I do take from her the idea of focusing on and responding to your environment, so I was interested in the site history as much as the specific strange acoustics of the big cave.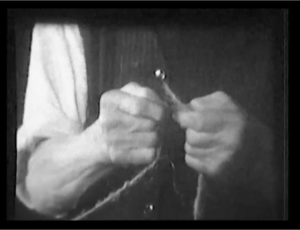 How has the rope making tradition in Peak Cavern influenced the work?
I've always liked knots and I was really taken by the history of rope-making at the site and particularly the 'Marrison loop' – which is an intricate knotting method developed there by the last rope-maker, Herbert Marrison. It's a method of splicing an 'eye' through taut rope and re-threading or looping the rope end back through itself – awkward to explain, easier to demonstrate with a shoelace! I was interested in this idea of several linear paths of twine interlocking across time and that strength structure changing as it gets pulled tight and looped. I like the idea of using a few components to create different versions on a theme so the Peak Cavern tradition of rope-making seemed like a good starting point for this work.
Knots have caught human imagination forever and I got a little carried away looking at the history of knots and knotting across maritime cultures, the Buddhist 'endless knot' symbol, mathematical knot theory, rope patterning and interlacing, the metaphor of tangling/unravelling etc…
In linking my piece back to Oliveros' practice – I really like her response to the student who asked for career advice: "don't build a career, build a community". It seems one of her main concerns was the prioritising of community over individual – so I suppose you could read rope-making as evidence of this -collective strength made from individual strands of twine. The atmosphere and acoustics of Peak Cavern are really incredible so it's up to the listener to take what they want from the experience of walking in the space.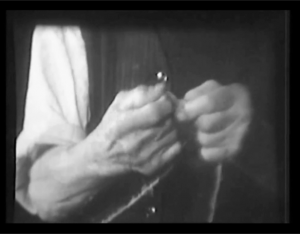 What can visitors expect in the space?
The piece is called Taut Line and is a multi-channel audio installation which follows this principle of individual notes alternating, extending and interlocking towards a complete chord then separating back out into individual strands. I chose a minor 11th chord which you hear a lot in RnB and gospel music so hopefully it will sound nice unfolding out into the cave. A 'taut-line hitch' is a completely different adjustable knot loop to the Marrison Loop, I just liked the title in relation to music.
You have a visual arts background, can you tell us more about your thoughts on the visual arts and music cross-over?
That's quite a big subject not sure how to answer that, but on a simple level, I often think of musical ideas visually, drawing rhythmic or an arrangement idea whilst working something out. For this, I was looking again at Tony Cragg's drawings, the idea of working out a shape as you go along.
What are you listening to at the moment?
At the moment, the mixes of some new solo music.
With thanks to Rivca, Ruth, Gaby and James, for their help.
Feature image: Photograph by Programme Producer, Rivca Burns.
Listening to the Dark Residency is a new commission by Abandon Normal Devices and Somerset House Studios. Dillon will take up residency at SHS in summer 2017, using the Deadhouse as a space to develop and test the new work alongside research trips to Peak Cavern.
Recent Journals
Other Journals
2023

2022

2021

2020

2019

2018

2017

2016

2015

2014

2013

2012

2011