Preview: What is this film called Love?
Thu 30 Aug 2012
Our film programme is happening now, with great screenings at Cornerhouse including The Creator, Indignados and the hilarious Come As You Are.
Kicking off a round of previews, our marketing and communications intern Miranda Wade takes a look at our Thursday night feature from director Mark Cousins, What is this film called Love?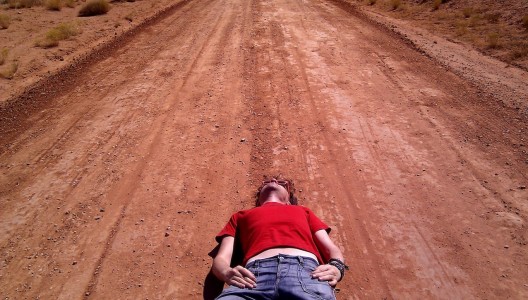 You'd be forgiven for expecting romance of critic and filmmaker Mark Cousins' new documentary feature What is this film called Love? – but it's not giving much away to say this is not a love story, at least not in a traditional sense.

On the back of finishing The Story of Film: An Odyssey (2011), a retrospective some six years in the making, Cousins lands alone in Mexico City where the intolerable prospect of an empty schedule quickly gives rise to a new project. The result is this cathartic film about film.
Cousins calls it 'cine-ad-lib', a clue to the improvised, rough quality of the work. We share his quiet euphoria and implicit relief in getting back to basics – for him, making a movie without script, funding, equipment, cast, crew, or (necessarily) purpose. Armed with a flip camera and hipster hairdo, Cousins appears as the underdog, and we want him to succeed.
The finished product is a seventy-seven minute homage to one Sergei Eisenstein. Those unfamiliar with the Soviet Russian director's work (most notably 1925's Battleship Potemkin) needn't fear: unlikely as it seems, he's an accessible male lead. So is Cousins. In absence of strict narrative, these 'characters' offer focus, measure, and absorbing insight into the (at times obsessive) cinephile mind.
A soundtrack featuring heavyweights like PJ Harvey and Johnny Cash helps marry the literal of the present moment with dream sequences and older footage. Eisenstein is apparently considered the father of montage, which explains much of Cousins' approach. In one such composite scene, Tony Christie's 'Avenues and Alleyways' is paired with a fittingly energetic series of snippets, and throughout the film we see Eisenstein's techniques used to flesh out Cousins' own ideas. Is this the 'love' to which the title refers? Shall we view this as Cousins' love letter to a cinematic hero?
The flip aesthetic shifts from playful to haunting, and echoes of Cousins' interest and expertise in brutal histories abound. His Irish monotone imparts nonchalance, as though isn't touched by the serious, even profound conclusions he calls to our consciousness. And yet we are? The approach verges on didactic, but stick it out – there are moments of joy to be had here.
The film means to reflect on the nature of happiness, a curiously vague proposition. In accepting this as documentary, we must ignore the inevitable performance as Cousins turns the camera on himself. We journey through landscapes, across continents, and the film acts as a journal, an outlet for the individual. That we are privy to the filmmaker's most intimate musings again makes the work feel important. There is love in the treatment of empty valleys and plains, and it is here Cousins shows his cinematic prowess.
Time is displaced by the Mexican setting, and Cousins revels in the flashback. He dutifully informs an imagined Eisenstein (who in reality died back in 1948) of historical and cultural events he has missed, explaining feats of technology like mobile phones, air-conditioning, and sex toys, as well as practical issues, copyright for instance. It's dry humour, and a biting social commentary. "People run now," Cousins narrates, "but often with nowhere to go – just to stay healthy." I like it.
Oh, and look out for the chewing gum tree. Cousins does.
What is this film called Love? is on at Cornerhouse, Thu 30 Aug, 19:30. £7.50 / £5.50 concs. www.andfestival.org.uk/events/what-is-this-film-called-love/
Recent Journals
Other Journals
2023

2022

2021

2020

2019

2018

2017

2016

2015

2014

2013

2012

2011