About COSMOS 2018 Residency
Abandon Normal Devices (AND) were delighted to launch the second edition of COSMOS, a flagship international art-science commission and residency programme exploring deep space, in collaboration with The University of Manchester's' Jodrell Bank Observatory, Cheshire East Council as part of SHIFT and bluedot. Launched in July 2017 and scheduled to take place each summer, COSMOS invites an international artist to create a new audio-visual work developed for, and to be projected onto, the iconic Lovell Telescope at Jodrell Bank Observatory during the award-winning bluedot festival.  
It was with great pleasure we announced Addie Wagenknecht as the COSMOS artist for 2018. Wagenknecht collaborated with Jodrell Bank astrophysicists through a series of research trips in May and June to create a new artwork to inspire audiences. Spending time at Jodrell Bank Centre for Astrophysics, the artist worked with researchers and scientists to gain insight into the data collected by the telescope, the observatory's research and considered how we can visualise the knowledge gathered about deep space. Wagenknecht was specifically interested in the notion that information has always been available, and as an observer you can choose whether or not to look at it.  By using light this site specific commission transformed the Lovell telescope into a seemingly random data hub, giving rise to meaningful patterns and knowledge.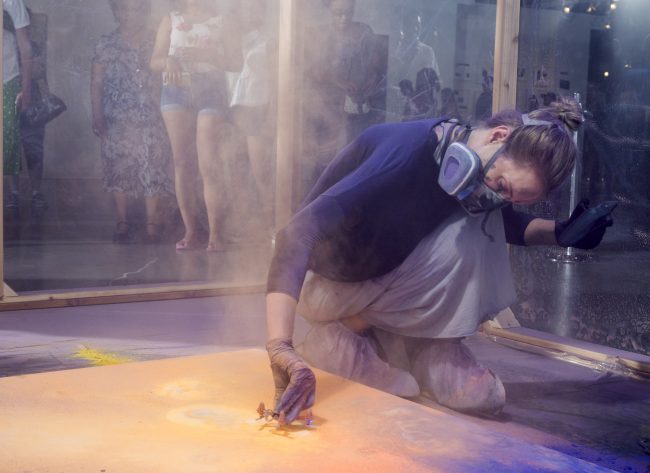 During bluedot festival the Lovell Telescope receives radio signals from deep space whilst pointed at the zenith, directly overhead. Wagenknecht's new artwork was projected directly onto the structure of the telescope using advanced projection mapping employing point cloud data gathered by LiDAR* scans completed by Arup, enabling the structure to be projection mapped in real-time and with precision.

More details of Hidden in Plain Sight here, track our journey #COSMOS18
COSMOS is a flagship international artists commission and residency for Lovell Telescope. Produced by Abandon Normal Devices, commissioned by Jodrell Bank Observatory, Cheshire East Council as part of  SHIFT and Abandon Normal Devices.  Supported by the University of Manchester, bluedot, Arup, Austrian Cultural Forum and with public funds from Arts Council England.
LiDAR* scans of the Lovell Telescope used in the production of COSMOS are provided by Arup.
*(Light Imaging, Detection, And Ranging)