AND Echoes: Howard Rifkin, and a farewell message
Wed 17 Mar 2021
Reflecting on festivals and events gone by and celebrating the brilliant individuals who make these extraordinary moments happen. In this next edition of AND Echoes, we say farewell to our long-standing Chair of the Board, Howard Rifkin, considering his most memorable moments during his time at Abandon Normal Devices.
One of the most joyous AND experiences for me was We Dwell Below, a VR piece co-produced with Ooni Studio with concept and direction by Laura Juo-Hsin Chen featuring music by Ka Baird, presented at AND Festival 2017 in Castleton, UK. After joining a long queue to enter a curious temporary structure assembled in the middle of Castleton, I was helped into a bizarre costume, given hand controls, a VR headset which was strapped under my chin and I was taught how to chew! Then through the VR goggles, I descended into a totally disorienting virtual world, jumping down from one level to another in a brightly coloured, immersive subterranean playground which made me feel like a child playing with imaginary friends in a totally made up space. Hilarious and brilliant!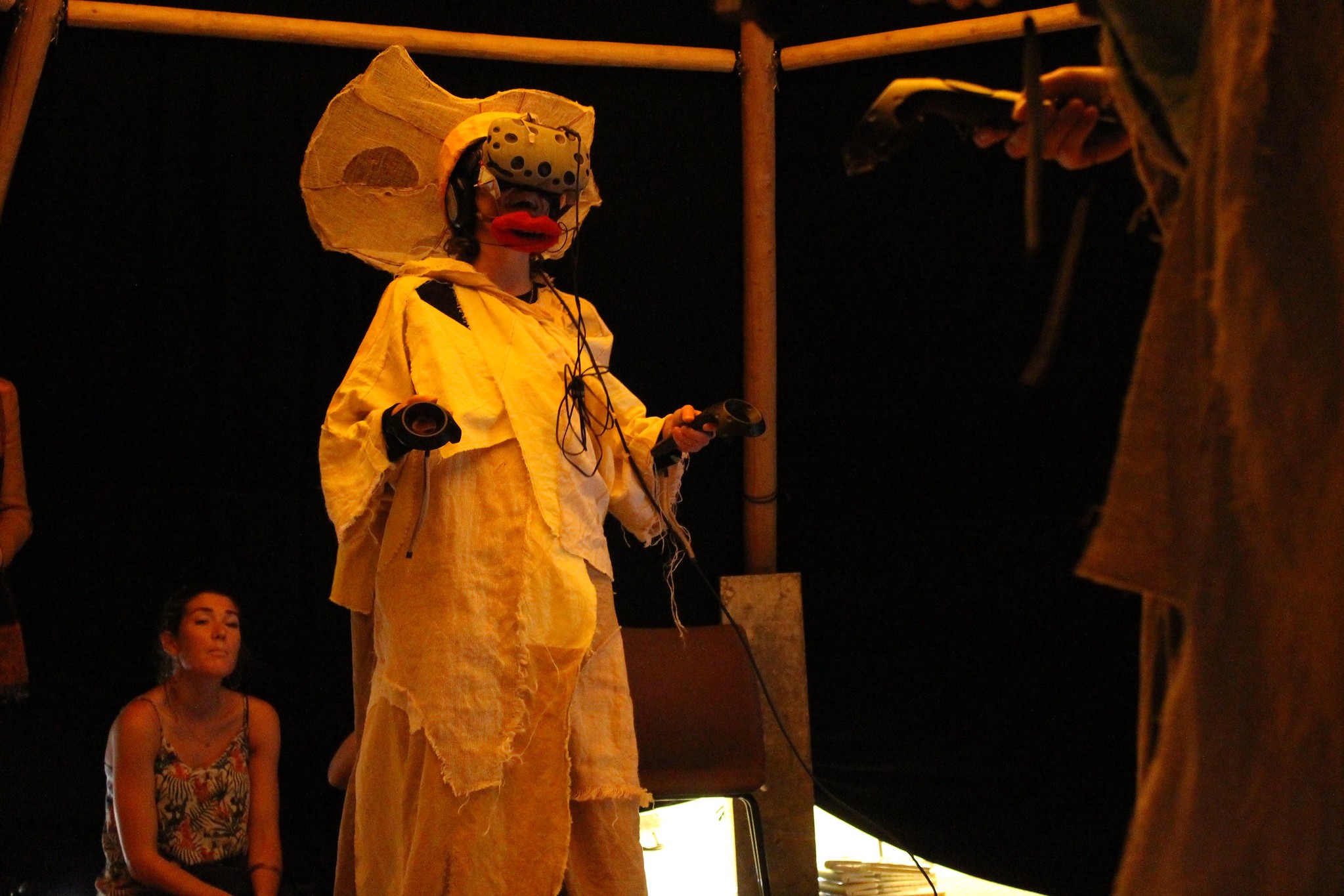 Castleton was also the site of Waterlicht; Studio Roosegarde's astonishing, huge scale, ambitious and awesome work. Like in a scene from Close Encounters, I saw thousands of people hiking up a long hill as evening fell, to stand underneath beautiful dark blue swirling 'waves' of smoke and lasers, listening to an ambient soundscape which completely filled the valley of Winnats Pass, high above the town. Spectacularly, Waterlicht showed how, if global water levels keep rising, just how high they might reach. A truly 'sub-mersive' experience, relevant to its environment (and to themes for AND Festival 2021) – beautiful and disturbing.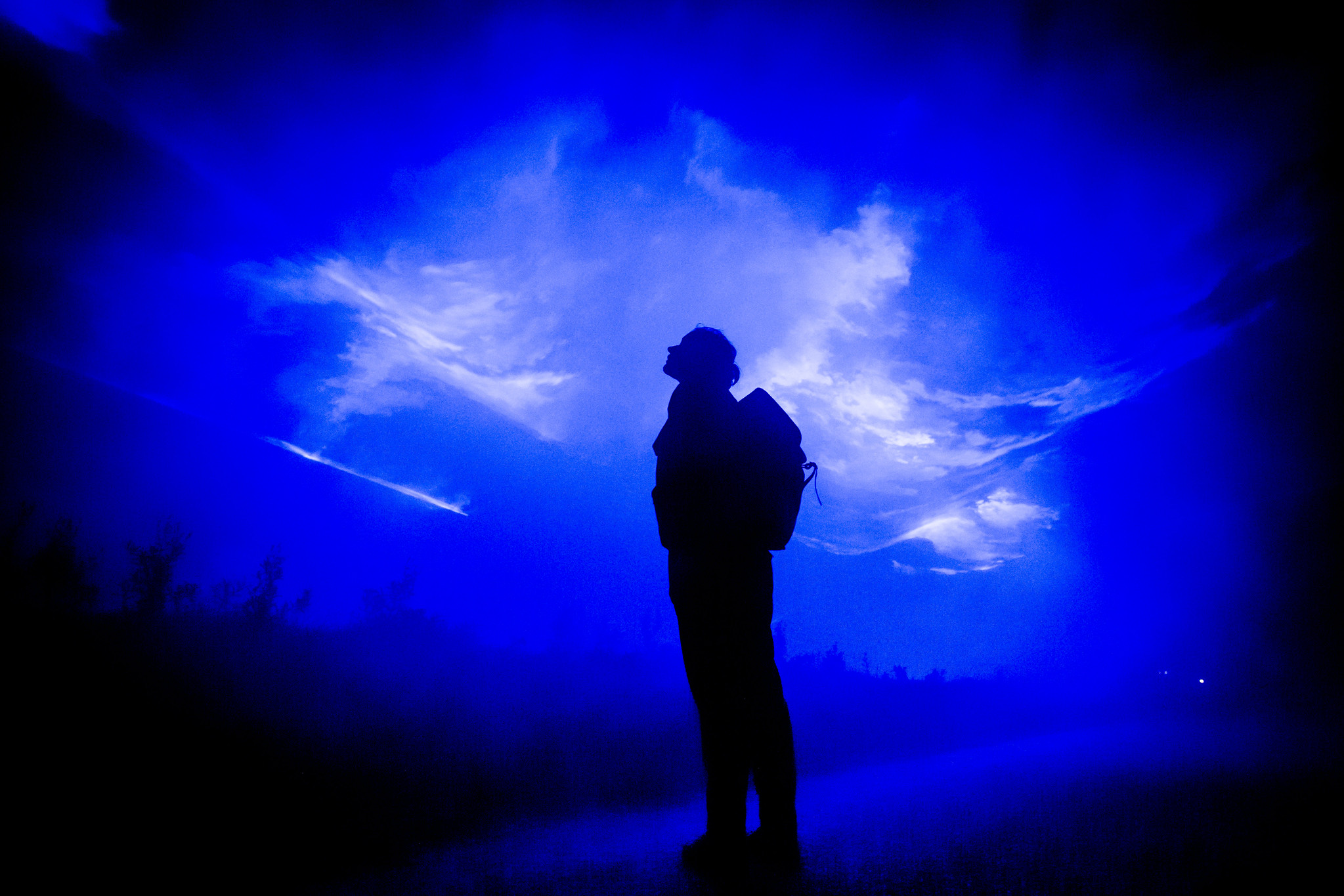 Completely different, but another wonderful event, was the screening of Hitchcock's Rear Window, part of AND's The Invisible City: the Cinema of Surveillance programme presented in the former Pilkington Glass factory in St Helens, Merseyside in 2016. The film was projected on a screen halfway up a seven-storey tower facing on to an interior courtyard surrounded by office windows. Some of the audience watched from their cars parked in an ad hoc 'drive-in', others, like me, watched through the windows of a large room opposite the tower overlooking the courtyard.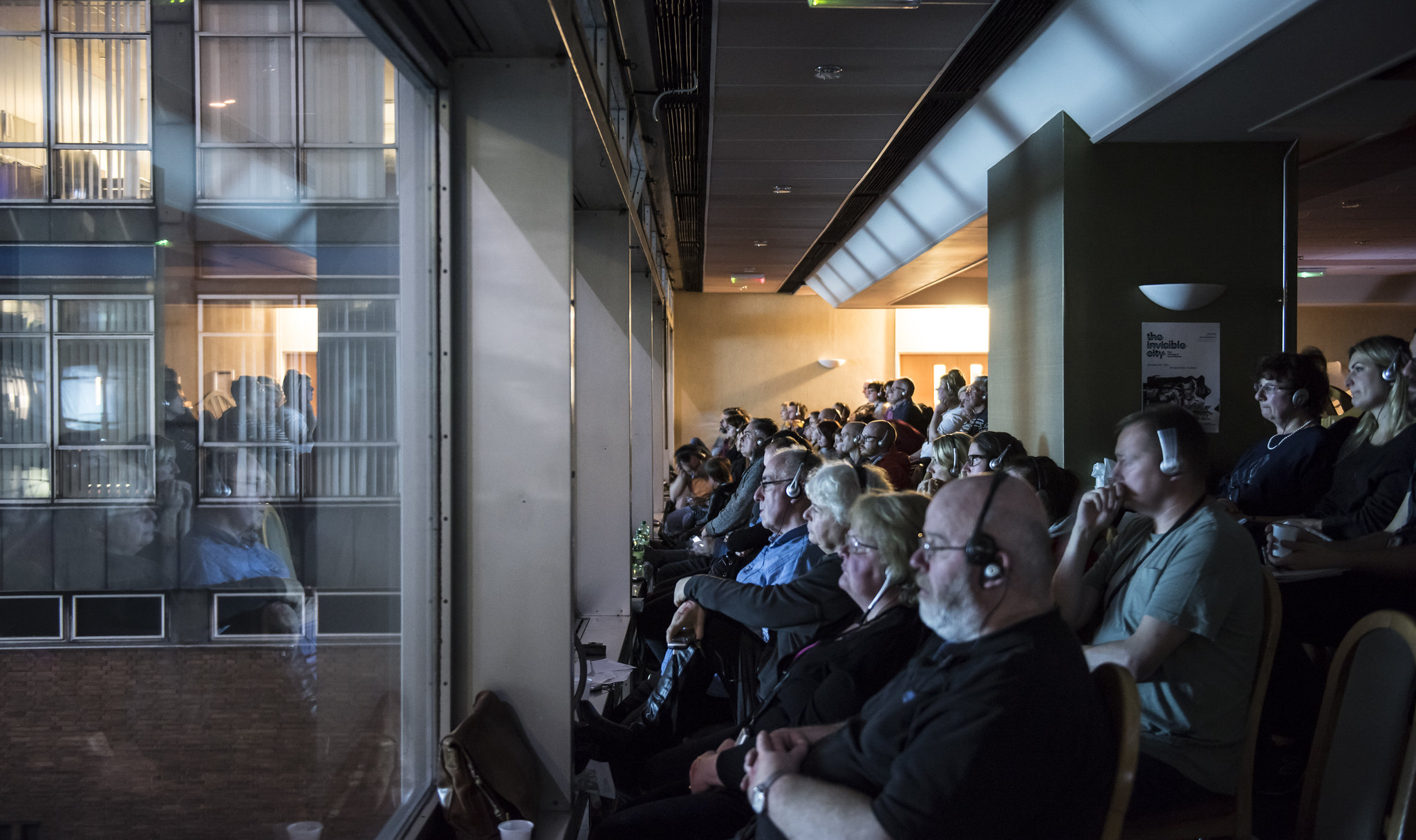 (spot me in this photo, I'm in the front row wearing a blue shirt!)
Around 20 minutes into the film, I noticed a light being switched on in one of the offices to my right across the courtyard, then from time to time during the screening, another light would flicker on or off in a room on the other side. I saw back-lit silhouettes, some alone, others not, moving in their separate rooms, or just sitting quietly at a table eating a meal. At one point on the far side of the courtyard, a man walked purposefully along a windowed corridor and disappeared through a door at the end. Another sat silhouette reading in an armchair in their room, whilst another figure slowly drew their curtains. A little later, through another window, I observed a figure dancing on their own while yet another talked on the phone. All this went on silently around the main screen while we watched James Stewart and Grace Kelly spying through a telephoto lens at the innocent (and not so innocent) comings, goings and gruesome events unfolding in their neighbours' private rooms across the courtyard of their Manhattan apartment block. Beautifully timed and choreographed, the scenes in the courtyard windows never intruded upon or disrupted the enjoyment of watching Rear Window; they intrigued and added layers of meaning and voyeuristic unease.
All these pieces, in their different ways, showed AND at its very very best; audacious, inspiring, different, exciting, playful, serious, surprising and visceral, giving audiences an exceptional chance to enjoy and experience art in whatever way they wished; physically, intellectually, emotionally or just for the sheer fun of it.
We'd like to thank our outgoing chair Howard Rifkin for his 7 years of service with AND as Chair of the Board – Howard was an invaluable member of the AND team and will be missed. We wish you all the best! Howard has over 30 years' experience at senior levels in arts management and development, regional and national policy and strategy formulation with and for arts organisations, local authorities and Arts Council England (ACE). After leaving ACE in 2010 as North West's Director of Arts, Howard has worked as an independent arts consultant for a wide range of clients. He is also Chair of Venture Arts, a visual arts organisation working with learning disabled children, young people and adults and was formerly a Trustee of the Centre for Chinese Contemporary Art (CFCCA).
AND Festival will resurface between from 27 May – 11 July 2021. Sign up to our newsletter for further announcements.
Image credits from top to bottom:
We Dwell Below, Ooni Studios 2017. Photo taken by Chris Foster
Waterlicht, Studio Roosegaarde 2017. Photo taken by Chris Foster
The Invisible City: The Cinema of Surveillance, 2016.
Recent Journals
Other Journals
2023

2022

2021

2020

2019

2018

2017

2016

2015

2014

2013

2012

2011