Introducing the Participants / Workshops in People's Homes
Tue 10 May 2016
As we gear up for the start of Workshops in People's Homes, which begins on 21 May and runs until 12 June at locations around Cumbria, we've spent a little time with each of the workshop participants, here photographed in the homes where they will run their workshops.
Find out more about them, and their workshops, below: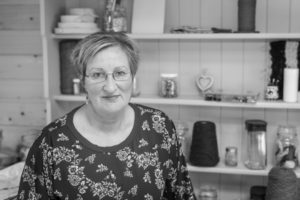 Barbara Birch / Textile Tasters
Barbara Birch is so keen on crafting she's even built her own 'craft outhouse' in her home in Gleaston, a village near Ulverston. When she's not sewing, quilting or making 'rag rugs' from recycled fabric she is an engineer on the nearby shipyard.  Barbara is passionate about bringing together people through craft and leads on various activities to improve her community.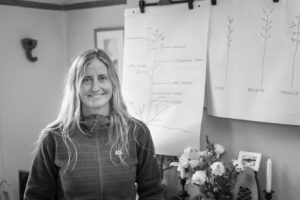 Sue Thurley / The Holy Grain
Sue Thurley started her working life as a mechanical engineer, moved on to tree surgery before leaving all this behind for a career in nature conservation and or for the last 18 years she has worked on land management, research and community engagement projects. Sue can often be seen out and about delving into bogs, nosing around meadows, whizzing across the hills, clinging to a mountain crag or exploring the Cumbrian coastline from her kayak.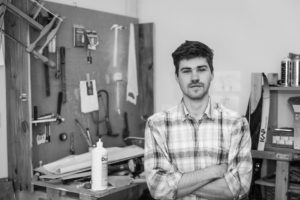 Hugh Pottinger / The Tentorium Approaches
Born and bred in the Eden Valley Cumbria, Hugh Pottinger has recently returned having spent time studying art, working and wandering in Scotland and the Czech Republic. Developing an art practice as a way of sighting, recording and interacting with the social fabric of the communities and circumstances he finds himself in, now through the channel of Workshops in People's Homes he wishes to share this practice with the people and places of his upbringing.
More about The Tentorium Approaches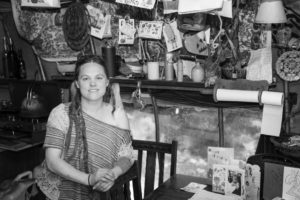 Di Larfynn / Come As You Are
Di Larfynn is a happy-go-lucky spirit living in a temporary home near Arnside with her partner, child, cat ('Sally Cat') and dog ('Dingo Dog').  She is a community artist and runs Stomping Ground, which delivers workshops and events in the community.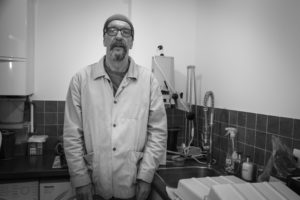 Colin Reynolds / Domestic Bliss: Tea, Wine and Cyanotypes
Colin Reynolds is a landscape photographer based in Kendal who likes to take the lesser-trekked fells and coastlines to document Cumbria. He has a studio on Kendal's high street where his work can be seen and bought.  He also tutors and teaches in digital photography and film/alternative photography techniques.
More about Tea, Wine and Cyanotypes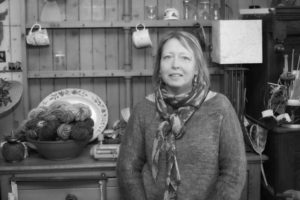 Jean Wildish / Nest!
Jean Wildish is a textile artist and native to Cumbria, some might say she is 'hefted' to the landscape in a way she can't explain.  She is a member of the Wool Clip, a co-operative dedicated to promoting British wool and traditional skills.  She makes and sells work as Tinker Tailors, using recycled materials, and loves her workshop so much she calls it home.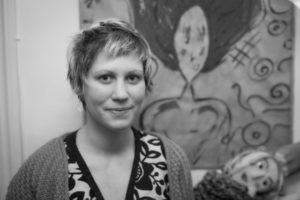 Maud Mercier / Nest!
Maud Mercier is a French native living in Penrith and working as an upholsterer. Her journey began in France and brought her to England where she decided to drop her anchor.  Maud's home is still in progress having arrived in Penrith with little more than a backpack.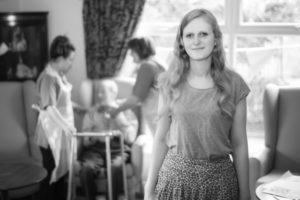 Katarina Prior / Conversation with a Stranger
Katarina Prior is a multidisciplinary artist who is inspired by people, in particular their stories and the objects they keep. She is an emerging artist who had her first major exhibition at Rheged Centre earlier this year.  She is also an Activity Coordinator at Winters Park residential care home in Penrith and is passionate about ensuring the residents have a quality social experience during their time there.
More about Conversation with a Stranger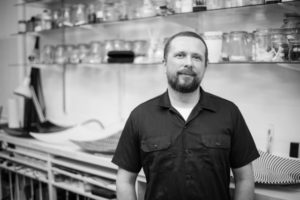 Nicholas Collins / Make Yourself at Home
Nicholas Collins is a glass artist based in Maryport.  His pristine studio is a hidden gem within his father's rough and ready workshop.  He makes kiln form glass, a method involving a fusing technique which results in pieces with extraordinary geometric patterns.  Nicholas sells his work commercially and in interested in expanding his practice into commissioning bespoke pieces and potentially more workshops.
More about Make Yourself at Home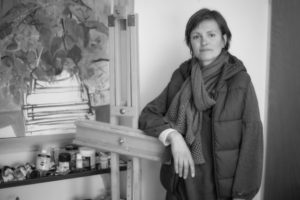 Celia Burbush / Dreaming of Home
Celia Burbush is a painter based in Keswick.  She paints from a makeshift studio in her basement, work that is thriving with emotion and autobiography.  She is passionate about working in educational contexts with groups with learning disabilities and mental health issues, and using art in a transformative way.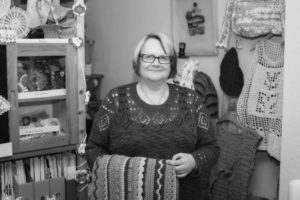 Sandra Kendal / Double Treble Bobble
Sandra Kendal is a newly retired Cumbrian native, living in Cumberland but originally from Westmorland.  Sandra is a crochet fanatic.  She first picked up her crochet hook at the age of nine after finding some in her Grandmother's work basket. She is excited to be sharing the meditative qualities of crochet and its wellbeing potential, and mark this new phase of her life by opening up her Penrith home as a 'crochet museum'.
Recent Journals
Other Journals
2023

2022

2021

2020

2019

2018

2017

2016

2015

2014

2013

2012

2011